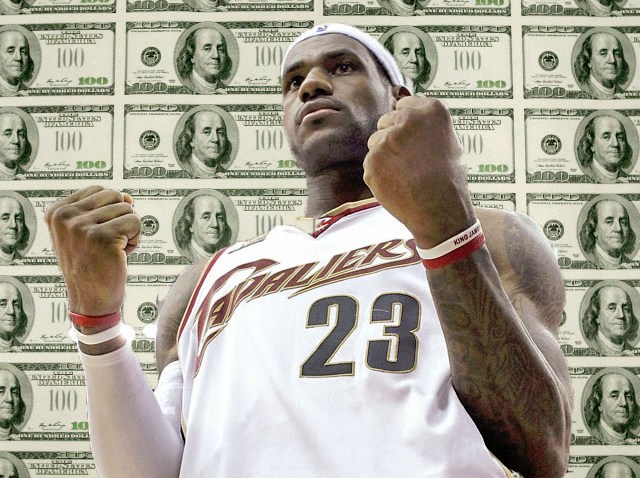 Move over Cleveland , LeBron James is on his way to posh Greenwich to make his much-awaited announcement.
Tonight, James will announce his team of choice live on ESPN from the The Boys & Girls Club of Greenwich.
Until 9 p.m., sports fans everywhere will be trying to guess where James might go.
Potential teams he could sign with include the Chicago Bulls, Cleveland Cleveland Cavaliers, Los Angeles Clippers, Miami Heat, New Jersey Nets and New York Knicks, the Associated Press reports.
Rumors began circulating on Wednesday that the Greenwich site is a clue that he will join the Knicks.
However, several news sites speculate that the location is merely convenient because he is attending Carmelo Anthony's wedding in New York on Saturday, according to the New York Post.
ESPN, which is hosting the coveted announcement, reports sources putting James with the Miami Heat, where he would join Dwyane Wade and Chris Bosh to form a potential "powerhouse."
US Magazine.com is also fueling the likelyhood that LeBron's Miami-bound. Sources tell the site that he rented six cabanas at the W Hotel South Beach to celebrate his decision.
James met with Wade and Bosh in Ohio on the Saturday before the NBA draft in a "scaled-down version of the free-agent summit," ESPN.com reported on Wednesday.

His friends and family have mixed decisions on where he should play, and he has many elements to consider, including a potential championship, according to ESPN.
Greenwich officials tell The Greenwich Time they are excited about hosting the sports world's hottest event and have hired 10 off-duty cops to work the event.
"I'm excited that he's chosen our town to make this monumental announcement and also that he's doing it at the Boys & Girls Club, one of the finest institutions. Greenwich is at the epicenter of sports activity," First Selectman Peter Tesei, the town's chief elected official, told the paper.
The Boys and Girls Club of America is benefiting from the announcment as well. All sales of sponsorship of the special will go toward the organization. James has dedicated time to the youth clubs across the country.
Along with the media, Twitter has been buzzing about the anticipated decision.
His @KingJames account is only two days old and has almost 300,000 followers and will likely exceed that at some point on Thursday.
So far, he has told his followers to check lebronjames.com for any updated information concerning the decision.
And then there are the speculatory tweets:
Jared Dudley of the Phoenix Suns, (@JaredDudley619), tweeted on Wednesday: "Breaking News!!! My sources tell me Lebron will announce that he will be goin to the NY KNICKS tomorrow on ESPN.. This is serious.. WOW!!!!"
Diddy (@iamdiddy) also got in on the action: "Breaking news!!! Lebron signs with the Knicks!! I just saw him leaving the knicks owners house!!! He lives next door to me! Let's go NYC." He later tweeted, "Im only jokin!!! I always wanted to start a twitter rumor!! He's goin to miami! My second home! Lol."
Fans who are anxiously awaiting the decision will just have to wait until the official announcement tonight on the 9 p.m. television special, dramatically called, "The Decision."
Dave Zirin of Edgeofsports.com said, "This has been the joke in sports writing circles for the last year, that this is like The Bachelor and that Lebron should have red roses and do the whole thing."
Copyright AP - Associated Press