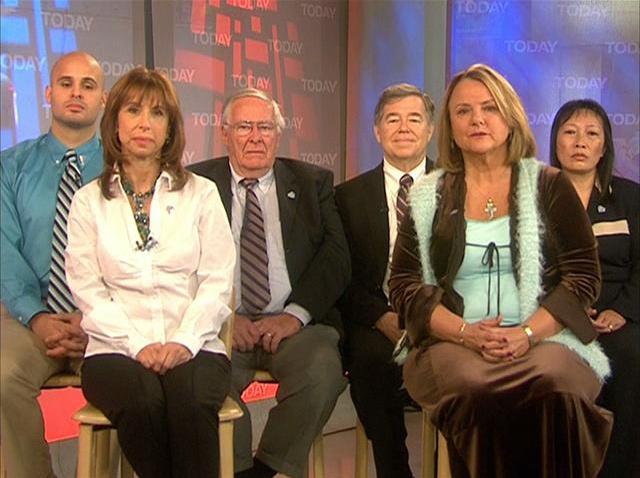 After months of listening to painful testimony and looking at horrific and graphic photos of three murdered women, the jury who sentenced Steven Hayes to death is talking.
Herbert Gram, 77, of Madison, was one of six jurors to appear on the Today Show on Tuesday and said the jury worked together well. There was never an uncivil word spoken during the deliberations as the jury found Hayes, 47, guilty and again when they sentenced him to death.
"How 12 people just came together and worked out the problems of taking another person's life, and at the same time, realizing that our founding fathers gave us this tool to be used with great care, and we deliberated in great care," he said. "This man has nothing positive to contribute to the face of this earth."
For three days, the jury deliberated and went over all of the factors in the case. They were very deliberate as they decided, Maico Cardona, 31, of Hamden, said.
"We wanted to make sure we went through this process professionally, and we wanted to make sure we looked at everything. We didn't want to just run through it. We made sure we looked at every count. We looked at all the factors. We followed the judge's orders to a T," Cardona said. "We wanted to make sure we followed what the law told us to."
Diane Keim, 59, of Madison, said the hardest part was keeping her emotions at bay as she made the decision.
"It was very, very difficult. Fortunately, I was with 11 other jurors who supported each other … and we helped each other keep those emotions at bay so the we can cognitively make a decision within the law," Keim said.
After the verdict was handed down, Hayes' attorneys said their client wanted the death penalty.
"He is thrilled. He is very happy with the verdict. That's what's he wanted all along, suicide by state, since he can't kill himself," Defense attorney Tom Ullmann said.
"We all felt that this was the best way for Steven Hayes to maybe take accounting of what he's done," Paula Calzetta, 55, of Guilford, said. "Hayes, by himself in his cell, with his thoughts. That may be the best punishment for him."
Hayes smiled as the sentence was handed down, but Joel Zemke, 62, of Guilford, said he doesn't believe he really does want the death penalty.
What will linger in the minds of the jury, they said, is seeing Dr. Petit in court, with his courage and his strength.
This, Keim said, transferred to the jury.
After the brutal ordeal, the jury said, the greatest reward was the opportunity to meet Dr. William Petit, the sole survivor of a brutal night of horrors.
After the trial, Judge Jon Blue arranged for the jury to meet him.
Gram said Petit was "just overwhelmed with thanks for us," but Gram kept thinking, "can we ever do anything for this man to return to him some peace on this earth" and he is urging everyone to back the Petit Family Foundation. http://www.petitfamilyfoundation.org/
Cynthia Renn, Jennifer Hawke-Petit's sister, also spoke with the Today Show on Tuesday morning and said the family is doing very well, given the circumstances.
"Thank you for your time and effort," she said of the jury. "We know it wasn't easy. It was not easy information for all of us to hear in the very beginning, and we know it couldn't have been easy on them," she said. "It was a difficult job and they served it very well."
Before Jennifer Hawke-Petit and her daughters, Hayley, 17, and Michaela, 11, were killed, the Hawke family was against the death penalty, but that changed in this case.
"I think that, if anyone deserved the death penalty in this life, probably he does," Cynthia said. "He did such heinous crimes to my family. I just can't imagine a different kind of punishment for him. I think that life in prison would just have been just more of the same of what he had been used to."