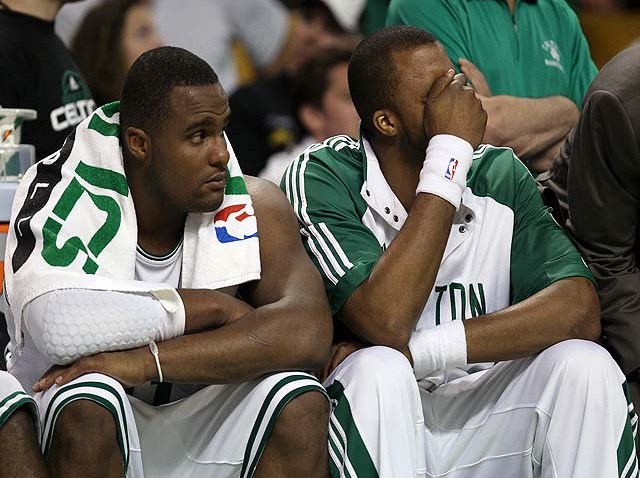 Had the Celtics won on Tuesday night, there was a chance that they could have taken the title at home. Unfortunately, that's not going to happen.
When it came to crunch time, the Lakers' Derek Fisher picked up where Kobe Bryant left off.

Kevin Garnett, who had just six points in Boston's victory Sunday, had 25 in Game 3. But Ray Allen, who had 32 points in Game 2, missed all 13 field goal attempts -- one shy of the NBA finals futility record.
"Our thoughts are really just still on how disappointed we are, or were, losing that second game on our home court. I think that had more of our attention and focus than what happened in '08," Fisher said. "We didn't doubt our ability to win here. ... We understand when you want to be the best, you have to win wherever, whenever."
Bryant scored 29 points and Fisher added 16, including a late layup and freethrow, to lead Los Angeles to a 91-84 victory and give the Lakers a 2-1 lead in the NBA finals.

Bryant had 25 points after three but did not score for the first 10 minutes of the fourth quarter. That's when Fisher took over, adding four key baskets after Boston winnowed a 17-point first-half lead to one point.
"Truthfully, he's done it over and over and over again," said Bryant. "So it's almost his responsibility to our team to do these things."

The Lakers regained home-court advantage they had lost when Boston took Game 2 in Los Angeles. Game 4 is Thursday night in Boston.

In the fourth quarter, there was hope as Boston cut a 17-point first-half lead down to one point.
One of the night's biggest plays came when Fisher sliced his way to the hoop past three Celtics defenders and went sprawling to the floor as the ball dropped for his fifth basket of the quarter. He connected on the freethrow, giving making it a three-possession game with just 49 seconds remaining.
"He saw the opening and went and made a very bold play. ... It was imperative that it goes in for us to win,'' Lakers coach Phil Jackson said. "When he's got an opportunity to hit a key shot, it seems like he's always there and ready."
Game 4 is Thursday night in Boston, and a Lakers victory would put them within one win of avenging the loss to their longtime rivals in the 2008 finals -- not to mention the eight other times the Celtics have won an NBA title at the Lakers' expense.

Copyright AP - Associated Press