Our First Alert meteorologists are tracking a major blast of cold air that will last throughout the day on Monday.
Temperatures are near zero along the shoreline and sub-zero for interior Connecticut.
A Wind Chill Advisory is in effect for northern Connecticut through Monday afternoon.
The cold temperatures are only one part of the equation. We also have strong wind from the northwest sustained between 10-15 mph, but gusting up to 30 mph through Monday. This will make temperatures feel -15° to -25°.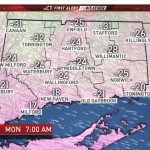 Temperatures this cold can be dangerous if you don't take proper precautions.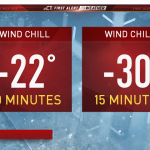 The good news is this arctic shot is short lived and temperatures will be back in the 20s Tuesday and 40s by Wednesday.