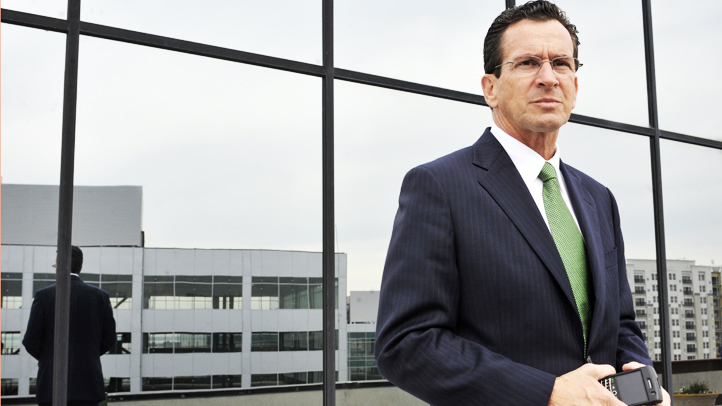 Gov. Dannel Malloy said he wants to immediately ban high-capacity ammunition magazines, require background checks for the transfer of any firearm and expand the state's assault weapons ban.

The Democrat released a package of what he calls "common sense gun safety reforms" on Thursday, a day after he questioned whether a legislative task force that's reviewing guns and other issues following the Newtown school shooting can reach a bipartisan deal on law changes.
Malloy discussed his plan at a gun violence conference in Danbury and Vice President Joe Biden is scheduled to speak at the event.
Malloy's proposal includes law changes, executive actions, and recommendations to the own commission that's still reviewing the Dec. 14 shooting at Sandy Hook Elementary School that claimed 26 lives.
The plan includes requiring background checks for the transfer of any firearm and not allowing anyone convicted of an offense involving a firearm, use of force or threat of force to obtain a firearm.
The governor's plan would ban large-capacity magazines and other ammunition feeding devices that hold more than 10 rounds.
He proposed strengthening the assault weapons ban and defining an assault weapon as "any semiautomatic weapon that has at least one military feature."
Malloy's plan also requires gun owners to store guns in such a way that they are inaccessible to children as well as anyone who should not have access to them.
One of Malloy's executive actions will be to work with Congressional leaders and the Centers for Disease Control and Prevention to add Connecticut to the National Violent Death Reporting System.
"Governor Malloy is undermining the Bipartisan efforts that have been exhaustive thus far in its efforts to obtain a complete look at the bigger picture of what happened in Sandy Hook. The findings of the task force and it's recommendations are being shoved aside. This points to the Governor's overzealous attempts to impose gun control without thought to the groundwork that has already been laid by the Task Force," the Connecticut Citizens Defense League said in a statement.
The National Shooting Sports Foundation issued a statement saying it will review Malloy's proposals in detail.
"We certainly hope to have the opportunity to engage with him in a meaningful dialog to achieve real and effective solutions that will help to make Connecticut safer," the statement said. "We are, however, troubled by the Governor's apparent change in attitude and seeming impatience with the approach of the General Assembly's bipartisan Gun Violence Task Force and even his own commission. We do not believe a rush to quick-fix legislation is likely to produce real public safety solutions, while it holds the clear potential to hurt good-paying manufacturing jobs in our state.

"We applaud the General Assembly's bi-partisan task force for working to fully evaluate all the issues and points of view, including that of our industry, in an effort to craft an effective public policy response. We hope the Governor will give the General Assembly the opportunity to get it right. We believe that is more important than achieving headlines in connection with Vice President Biden's visit to Danbury today."
You can read a summary of the governor's plan here. The more in-depth plan is posted here.
Copyright AP - Associated Press