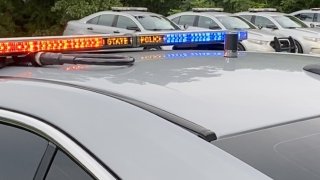 A man has been arrested on cruelty to persons charges in connection to his brother's death in Oxford last June.
Connecticut State Police said they've arrested 72-year-old James Mosley, of Bridgeport, Wednesday morning in connection to the suspicious death of his brother Kevin.
According to an arrest warrant, police said Mosley called authorities on June 20, 2022, after seeing his brother lying face down on the floor with apparent facial and head trauma. Mosley was living with his brother on Pawnee Road at the time.
Responding officers saw a pool of a blood-like substance, which was partially dried, on the floor next to Kevin. The warrant states that he had been dead for at least a few hours before officers responded.
State troopers were called in to investigate. Mosley told officers that he called police as soon as he saw what happened to his brother.
Authorities said Mosley put two garbage bags in the back of his truck. It was later determined that there was a blood-like substance on items inside. Detectives also saw dried up blood in other areas of the house, the warrant said.
Mosley voluntarily spoke with detectives and while doing so, he told police that "he had cleaned blood up from the scene twice, before and after sleeping, and before calling 911," the warrants states.
In October 2022, the Office of the Chief Medical Examiner reported that the cause of death was blunt force trauma to the head, resulting in a brain bleed. The manner of death couldn't be determined.
Western District Major Crime detectives arrested Mosley in Bridgeport after obtaining an arrest warrant. He was taken into custody without incident.
Mosley faces charges for intentional cruelty to persons and tampering with physical evidence. He's being held on a $25,000 bond.