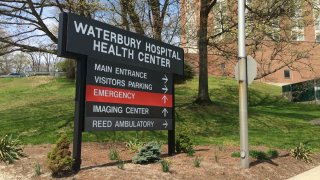 A lawsuit against the Waterbury Hospital alleges a man died when the facility neglected to care for him while he was experiencing extreme pain in the hallway for three hours.
The family of Abip Sadiku is seeking $15,000, excluding interest and costs, from Waterbury Hospital after the 49-year-old died at the facility on Aug. 26, 2016, according to Faxon Law Group, who is representing the man's wife.
"Mr. Sadiku would have received better treatment in (a) veterinary hospital," attorney Joel T. Faxon said. "He was inexplicably abandoned in a hallway while he and his family pleaded for help."
The New Haven-based law firm said Sadiku was brought to the hospital's emergecny room via ambulance for excess pain in his abdomen, chest and neck.
According to an expert who reviewed Sadiku's medical records, Sadiku expressed that his pain was 10 out of 10 to nurses who did not document such a high level of pain, the law firm said.
Sadiku was held in the hallway because no beds were available and apparently given an antacid cocktail by a nurse, which should have only been given by a doctor, the complaint alleges.
The medical expert said had the nurses treating Sadiku documented correct information, the hospital's emergency pain alert guidelines would have been triggered.
Medical records found that Sadiku had waited in the hospital hallway for nearly three hours before dying, with nurses not checking vital signs regularly or alerting physicians of the severe pain he was feeling.
Sadiku died of aortic dissection, a preventable condition if treated promptly, without ever seeing a physician.
"In summary, the standard of care required that aortic dissection be included on the list of differential diagnoses in life of the above, and, had evaluation and treatment been rendered consistent with the (hospital's) standard of car, diagnosis of Mr. Sadiku's condition should have been made in the emergency department of Waterbury Hospital," the expert emergency physician said, according to the law firm.
The complaint says the hospital failed to follow policies or procedures designed for prompt treatment of aortic dissection, reassessing Sadiku's vital signs, obtaining evaluation to administer medication to the victim, reporting critical findings and following medication protocols, among other claims.
Waterbury Hospital's interim director of communications, Patricia Charvat, said the hospital doesn't comment on pending litigation.
"Waterbury Hospital is committed to providing safe, high-quality care to all of our patients, in all areas of the hospital. Patient privacy laws prevent us from commenting on specific patient cases and we do not comment on pending litigation," Charvat said.