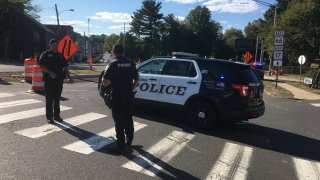 A multi-vehicle crash closed the Arrigoni Bridge in Middletown and Portland on Sunday.
The motorcycle vs. car crash happened at approximately 1:45 p.m., crews said.
The operator of the motorcycle was traveling east on the bridge and crossed the center line into the path of a car traveling westbound, according to police.
The motorcycle operator was seriously injured. The driver of the car suffered minor injuries, police said.
Police did not release the names of those involved.
The Arrigoni Bridge was closed for approximately an hour for the police investigation but has since reopened. The bridge connects Middletown to Portland.