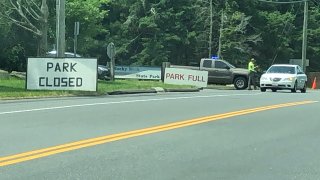 Multiple state parks have closed after reaching capacity on Sunday.
The following parks are now closed to new guests:
Bigelow Hollow State Park in Union
Burr Pond State Park in Torrington
Millers Pond State Park in Haddam
Mount Tom State Park in Litchfield
Pattaconk Recreation Area (Cockaponset State Forest)
Rocky Neck State Park in East Lyme
Silver Sands State Park in Milford
Gillette Castle State Park is currently open to the public until sunset, but ticket sales for tours of the castle have sold out for the rest of the day.
Any of the parks that close on Sunday will reopen to new guests on Monday.