Though Connecticut will see rain, snow will finally fall in northern New England tonight.
Nearly a half foot of new snow is expected on the spine of the Green Mountains north of Stowe.
Jay Peak should be in the jackpot, as is typically the case, with over a half foot of new snow.
According to data from the University of Vermont, the snow depth at the Mt. Mansfield snow stake is 34 inches.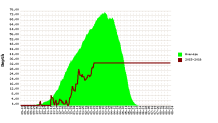 Snow data on Mt. Mansfield dates back to 1954-1955. The long-term average depth peaks on March 22 at 75 inches, so this season will likely fall well under that.
Any amount of natural snow is desperately needed.
Recently, the Vermont Association of Snow Travelers or VAST, posted on Facebook explaining to snowmobiliers "Well, this winter stinks! There is just no way around it." [[370661781,C]]
Many ski and snowmobile trails remain closed due to the lack of natural snow.