The cold weather has arrived, and the NBC Connecticut meteorologists expect temperatures to get close to the record for cold on Saturday.
We are expecting near-record cold Saturday morning.
The current record is 19 set in 2003 and we're forecasting 20 degrees.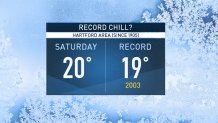 The weekend will get gradually warmer before our next cold blast arrives next week.