The New London Police Department and local teens grabbed their paintbrushes Tuesday in an effort to make New London graffiti-free.
Graffiti, which at times can be an eyesore and profane, could give the impression that "nobody cares" about a neighborhood and lead to more crime, according to police.
So officers, The New London Community and Campus Coalition and the New London Youth Affairs Teens in Action Program worked together on the first Graffiti Paint Out event at Fulton Park in New London to beautify the city and encourage economic growth.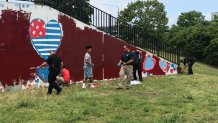 "There's kids here. You should want a better place for your children to grow up in," said 16-year-old Anastasia Williams, a rising junior at New London High School.
The teens spent part of the afternoon covering up profane images, words and destruction.
"Not a lot of people take the time. They say things but they don't take the time to do it and take action. But it's good that we're changing something in our community," said Jaiden Mills, a 14-year-old from New London.
"It represents who New London is – not what it is. Like, not the physical structures around but the people that live in it," 15-year-old Francisco Colon said. The New London resident is a 10th grader at Grasso Technical High School.
These teens are hoping their work encourages other residents to pay it forward and elicits a sense of pride in the community.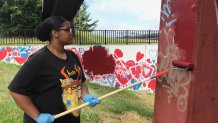 "They'll see that we're trying to make our town look better, look cleaner and they'll probably want to help out, too," said Bryanna Poulard, 16, a student at Science and Technology Magnet High School of Southeastern Connecticut.
While these teens said they know there are more steps they can take to help the community, they call this a very solid first one.
"It's always special to help others and help where you came from so when you get older and you come back home, you see it's looking like a better place," Williams said.
Through a grant, Home Depot supplied all of the paint, rollers and other supplies.
Police said it's against the law to allow graffiti to stay on property. Thus, all property and business owners could be fined $100 or more if it's not painted over or removed in a timely manner. For more information, contact Officer Ryan Soccio, New London's Crime Prevention/Community Policing Officer at 860-440-6673.