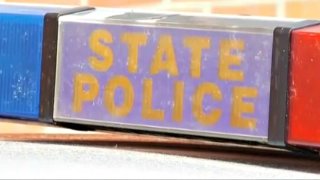 Southington Police are investigating after a woman allegedly struck a pedestrian on purpose, causing serious injuries.
Connecticut State Police and Southington Police responded to the West Street Interstate 84 overpass around 3:30 p.m. Thursday.
They said 57-year-old Diane Skwiot, of Southington, was driving on an overpass when she allegedly struck a man who was walking on the sidewalk.
The man was thrown onto the highway and sustained serious injuries, authorities said. He was transported to a nearby hospital where was treated in the ICU and was listed in critical condition.
On Friday morning, police said he sustained a moderate brain injury and is expected to survive.
Police said Skwiot got out of her car and stood outside briefly before walking away. Officers found her a short distance away near the I-84 westbound off-ramp, they said.
She was taken into custody and was transported to a nearby hospital to be evaluated.
Police said she remains hospitalized Friday morning and they expect to arrest here via a warrant. They said Skwiot faces charges including first degree assault with additional charges pending.
Authorities said this began as a domestic incident.
Update: Skwiot has been released from the hospital and is being brought to the Southington Police Department for processing.
An arrest warrant has been issued for Skwiot accusing her of first-degree assault. Her bond is set at $450,000.