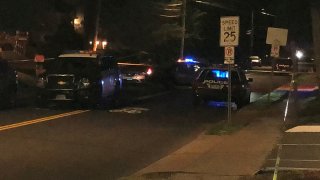 A Bloomfield man is dead and a woman is injured after a double stabbing in Hartford, and police said they have arrested the woman's ex-boyfriend in the attack.
Police said they responded to Sherman Street at 11:22 p.m. Thursday and found 38-year-old Dyshawn Copeland, of Bloomfield, with a traumatic injury to his neck and a female victim who was suffering from a hand trauma.
Both people were transported to St. Francis Hospital and Copeland was pronounced dead at 12:06 a.m., police said.
Police said they have arrested a suspect, who is charged with murder and second-degree assault. The suspect is described as the ex-boyfriend of the woman, and had no known association with the victim. He has not been publicly identified.
Anyone with information is asked to call the Hartford police tip line at 860-722-8477.