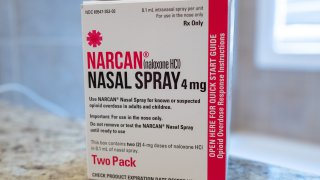 Last year, over 1,200 people in Connecticut died of a drug overdose, and that crisis continues.
New Haven says it has seen 12 fatal overdoes in the past two weeks alone. Cities around the state are seeing an increase in overdoses and are trying to curb the trend.
In a 24-hour span from Jan. 26 to the 27, Willimantic saw four overdoses. While none were fatal, Willimantic has had two fatal overdoses in 2023, after 18 for all last year.
Chief Marc Scrivener says much can be blamed on opioids that are counterfeit.
"Almost exclusively, they are not real," Scrivener said. "Almost exclusively they're not diverted pain pills that came from somebody's medicine cabinet. They are fentanyl."
According to New Haven health officials, the 12 fatal overdoses occurred predominantly in the Newhallville and Hill neighborhoods.
"The preliminary reports are indicating that opioids laced with crack cocaine is circulating in New Haven, and may be responsible for the increase in overdoses," said New Haven Director of Public Health Maritza Bond.
According to the state's Department of Public Health website, there were 1,284 confirmed fatal overdoses last year and over 85% were cases involving fentanyl.
"It seems recently, as in the last three or four years, anecdotally, that it's more present than ever," Scrivener said.
Saving the lives of many who overdose is Naloxone - a medication that counteracts the effect of an opioid in the brain. Naloxone, or more commonly known as Narcan, is something communities want people to know about.
"Do you want to be the individual that saves a life and uses that Narcan, or do you want to be the individual that calls 911 and there's a possibility that that person doesn't make it?" asked Samuel F. Bowens III of the Waterbury Health Department.
Waterbury is educating people about Narcan after it issued a "spike alert" this weekend. The city is also warning people about an increased presence of fentanyl.
"What's happened right now is that it's cut. It's put out into the street, and it's mixed in with crack, cocaine, heroin and even marijuana," Bowens said.
While Narcan is carried by Connecticut's first responders, it is also widely available to the public. It is a prescription medication available at pharmacies around the state.