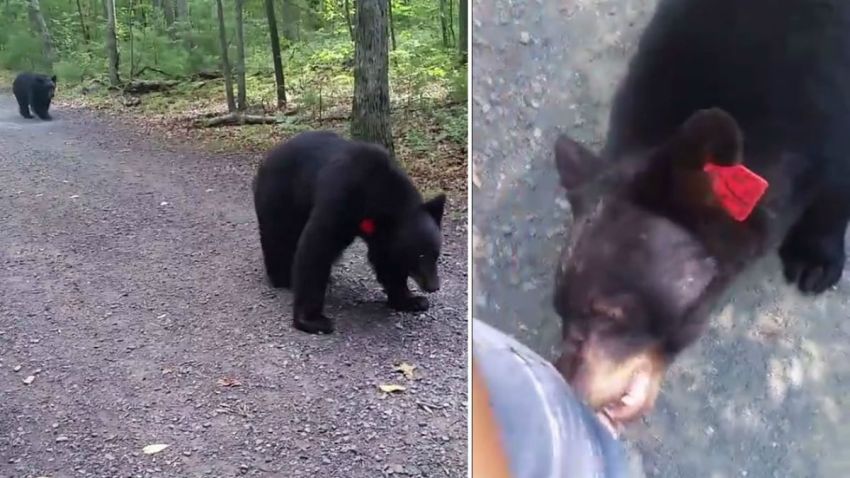 Petitions are circulating to halt plans to euthanize a black bear involved in a close encounter with a hiker on a trail in Burlington late last week.
State officials closed trails at Sessions Woods Wildlife Management Area on Friday after hiker Stephanie Rivkin captured video of her confrontation with a young male bear and shared her footage with NBC Connecticut.
Department of Energy and Environmental Protection spokesman Dennis Schain said in a statement Friday that wildlife staff is searching for the bear and plans to euthanize it.
Residents are now begging DEEP to save both black bears Rivkin encountered. Rivkin, who told NBC Connecticut she has received hate mail since the incident, said Friday she hopes the bears can be saved.
Rivkin talked to David Fisch, radio host of "Fisch in the Morning" on 104.1 WMRQ, on Monday morning to defend her actions.
"I was already calm. I go into nature and it's to be calm and take pictures and, you know, relax and get away from all the craziness of life," Rivkin told Fisch. "And when I'm out there I am calm. There's not reason for me to feel scared unless I'm being attacked and that wasn't the case. I wasn't being attacked."
Rivkin told Fisch she thinks remaining calm helped her by showing the bear she wasn't going to harm it. She said she didn't want to provoke the bear or draw more attention to herself, given her small stature.
As for why she recorded the encounter, Rivkin told Fisch it's a common habit in this day and age. She told him she never intended for the bear to be euthanized as a result of her video. Hear the full interview here.
Online petitions are now circulating, urging DEEP not to euthanize the bear. A Care2 petition that has garnered thousands of signatures
demands DEEP save the "curious bear cub."
"Please help keep this cub out of the DEEP's crosshairs. It was clearly the human that was invading the bear's space," the petition says in part, describing the bear cubs as "curious and skittish" and stating that when it appeared they were uncomfortable "they would run and hug a tree."
"When one encounters a bear you should slowly walk away, not approach it for pictures and videos," the petition continues. "If anything, this woman should be fined for interfering with wildlife."
Another petition has 866 signatures and and is addressed to DEEP commissioner Rob Klee. Both petitions criticize the way Rivkin handled the encounter.
"If she had just continued on, and not engaged these bears they would have left her alone," the Care2 petition says. "Or, if she was that concerned for her safety, she should have made herself appear larger, yelled, whatever it takes to get them to move on. Truly, if these bears wanted to attack her, they would have done so. The Connecticut DEEP has a penchant for killing wild animals when they are even seen by a resident. Please help keep these bears around!!"[[323267251, C]]
Officials said Rivkin was not hurt.
"DEEP staff had a chance to talk with this woman after her encounter with the bear," Schain said in a statement. "We are relieved she was not injured. This was certainly an unusual incident as bears do not often approach people."
He added that plans to euthanize the bear are the appropriate action to take after seeing this bear's behavior.
The tags on the bear's ears indicate DEEP began tracking it as a yearling over the winter. The bear was captured and relocated at least once, according to the agency.
If you spot a bear while hiking or camping, wave your arms to make your presence known and back away slowly. Do not approach or interact with the animal.