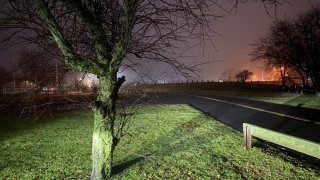 Stamford police have arrested the mother of a 2-year-old boy whose body was found buried in a plastic bag in Cummings Park park last month.
Stamford police have arrested 29-year-old Iris Rivera-Santos, the mother of 2-year-old Liam Rivera, who was found buried in the park on Jan. 2.
Rivera-Santos was arrested at 9:45 a.m. Friday and charged with risk of injury to a minor, hindering prosecution, tampering with evidence and cruelty to persons, police said.
She is being held on a $1 million bond.
Police said these charges come after an extensive investigation conducted in conjunction with the Stamford State's Attorney's Office.
The little boy's father, 26-year-old Edgar Ismalej-Gomez, is in the custody of the Connecticut Department of Corrections after a previous arrest for a violation of probation charge.
Police said last month that he was considered a possible person of interest, then called him a suspect during a news conference.
Last month, Stamford police said they received a call reporting a possible kidnapping and a child who might have been injured.
They said they learned the child might have been buried in the area of Cummings Park, and officers found an area where the dirt had been disturbed. That is where police found Liam buried.
The Office of the Chief Medical Examiner determined his death was a homicide and the cause of death was blunt force injuries to the head.
This investigation remains active.