Police have arrested a 47-year-old man in connection with four burglaries and sexual assaults in Vernon and Manchester between 2001 and 2008 and Vernon police said the suspect is a Manchester firefighter. Investigators said the break in the case came with the help of a grant and a genealogy service.
Angelo Alleano Jr. 47, of Vernon, has been charged with four counts of sexual assault in the first degree and three counts of burglary in the second degree.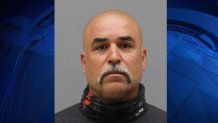 Police in Manchester and Vernon Police made the arrest after investigating a series of residential burglaries in which the suspect sexually assaulted his victims, police said. The victims include an 84-year-old woman, a 57-year-old woman and a woman in her 30s.
Police said the 84-year-old victim called Lifeline on Aug. 6, 2001 to report that she had been sexually assaulted in her Manchester apartment complex, according to court records.
She told police that the man walked through her unlocked door between 2:30 p.m. and 3 p.m., told her not to screen and sexually assaulted her, according to police.
On Dec. 9, 2004, a 57-year-old Manchester woman called 911 to report that she'd been sexually assaulted in her home.
She told investigators that he'd come in through an unlocked porch door while she was sleeping and she woke around 1 a.m. to find a man in a ski mask in her home. He told her to be quiet and sexually assaulted her as her mother slept in another room, according to police.
On March 23, 2007, a 37-year-old Manchester woman reported that she'd been sexually assaulted in her home while her son was in the house.
She said she was sleeping and a noise woke her before 1:30 a.m., then she saw a shadow.
She screamed, "Who's here? Who's here?" (sic) and a man put his hand over her mouth and told her not to scream and her child would not be hurt, the warrant says, then he sexually assaulted her.
On Jan. 16, 2008, a 61-year-old Vernon woman reported that she'd been sexually assaulted in her home.
She told police she fell asleep on her couch and woke to a pillow being pushed into her face. A man told her he wanted money and would not hurt her, according to court documents.
The victim told police she gave the man the $200 she had in her wallet and he sexually assaulted her, according to the arrest warrant.
Investigators said they believed the four incidents were connected and applied for a "John Doe" warrant, which was signed in 2010 and identified the suspect based on forensic evidence left at the scenes.
"This case should send a strong message that we do not stop working on these cases. We will use available scientific evidence including new breakthroughs and new technology to reexamine old cases and to ensure that we bring people the justice," Lt. William Meyer of the Vernon Police Department said.
Investigators said the break in the case came with the help of a grant and a genealogy service.
"Forensic genealogy combines DNA analysis with traditional genealogy or family history studies as well as familial research to deliver investigative leads in trying to solve or support cases," Kristin Sasinouski, deputy director of forensic biology and DNA, explained.
Bond is set at $5 million and Alleano will appear in Hartford Superior Court on Friday.
Alleano was arrested after arriving at the Vernon Police Department Wednesday morning as part of an investigation into an unrelated domestic violence offense, police said.
He was also charged in connection with the domestic violence case and he was charged with disorderly conduct. His bond is $100,000 for that domestic violence charge.
Manchester's fire chief said Alleano has been a firefighter for 24 years and the department is "heartsick" and "stunned" by the allegations, which they learned of Thursday. Alleano was also the local firefighter's union president, but has since been removed.
The town of Manchester released the following statement on the allegations:
The Town of Manchester is shocked, dismayed, and sickened at the allegations made public today. The men and women that make up the Town's workforce dedicate their lives to public service and nowhere is that commitment to the Manchester community more evident than with the Manchester Fire-Rescue-EMS (MFRE) Department, who on a daily basis put their lives on the line to care and protect Manchester residents. Like everyone else, the Town and MFRE are struggling to make sense of this news and will be proactive partners in this ongoing investigation. We thank our Detective team at the Manchester Police Department for their resolute efforts to pursue justice on these cold cases. Our hearts are with the victims, their families, and everyone else affected by these tragic events.
Detectives are continuing to investigate and they ask anyone with information to call Vernon Detective Thomas Van Tasel 860-872-9126 or Manchester Detective James Moore 860-645-5500. Callers may remain anonymous.