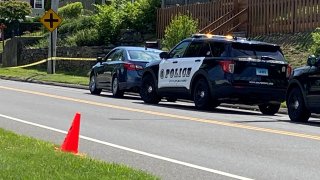 A man has been taken to the hospital with injuries after getting shot during a fight in Milford, police said.
The shooting happened after 1 p.m. Wednesday in front of a home on Edgefield Avenue.
Authorities said the other man involved in the fight was taken into custody, according to police.
It's unclear if the men lived in the home. Authorities said the home is a rooming house and people rent rooms for periods of time.
"It's a house that's known to the police department. We've been here for several other reasons but we have not had any calls like this," an officer at the scene said.
The extent of the hospitalized man's injuries is unknown at this time.
Officials are interviewing several witnesses that might have seen or heard the incident. Police are asking people to avoid the area during the investigation.