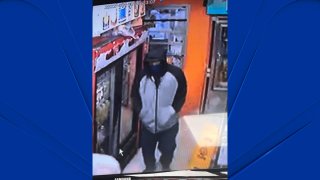 Police are looking for the person that allegedly robbed several stores in Naugatuck and Waterbury at gunpoint Friday night.
Two armed robberies happened in Naugatuck and three others happened in Waterbury.
In Naugatuck, officials said the first robbery was reported at Cork and Keg Liquors at about 6 p.m. The store, located on Rubber Avenue, notified police of an armed robbery.
A second robbery happened at Cross Point Liquors across town on New Haven Road. Authorities said a person matching the same description robbed the store at gunpoint.
Not long after, an armed robbery happened at a 7/11 convenience store in Waterbury. Officials were called to the Baldwin Street store at about 7 p.m.
Five minutes later, an attempted robbery happened down the road at Hopeville Package Store. The man fled before taking anything inside.
Around 8 p.m., police were notified of yet another armed robbery at the Mobil gas station on North Main Street.
Officials are looking for the above pictured person in connection to the string of robberies. He appears to be wearing a grey hooded sweatshirt and a blue mask, and is believed to be responsible for all five robberies, Waterbury officials said.
The incidents are under investigation. Anyone with information is asked to contact either Naugatuck or Waterbury police.