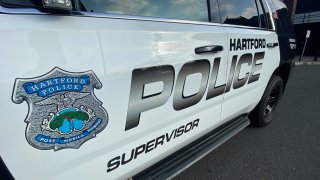 Police have arrested a man that allegedly kidnapped and killed a man in Hartford a dozen years ago.
The Division of Criminal Justice said a joint investigation by several agencies resulted in the arrest of 32-year-old Shawn Milner, of Hartford.
Authorities said Milner allegedly kidnapping and shot Waqas "Victor" Rehman to death in December 2010.
Milner is accused of kidnapping Rehman from the store he owned, called The Smoker's Shop on Barbour Street, and killing him. Court records show that a witness reported that they heard the altercation, saying someone demanded money and for Rehman to get into a car.
Later that day, police responded to a reported shooting and found Rehman suffering from multiple gunshot wounds. He was taken to the hospital where he later died, according to authorities.
Police identified a suspect through DNA testing and in 2022, a report was generated by the DNA Database Unit which indicated that Milner's DNA may have been found at the crime scene nearly a decade ago.
Milner faces charges including felony murder and first-degree kidnapping. He's being held on a $2 million bond and is scheduled to appear in court on Feb. 14.
"Due to the continued efforts of the Hartford Police Department, the Cold Case Unit and the Hartford State's Attorney's Office, another cold case murder has been solved and closure has been brought to another family," Hartford Police Lt. Aaron Boisvert, head of the Major Crimes Unit, said.
"This arrest is a reminder that cold case homicide investigations are never closed. Until they are solved, they are always open and constantly being investigated by the dedicated detectives assigned to these cases," he continued.