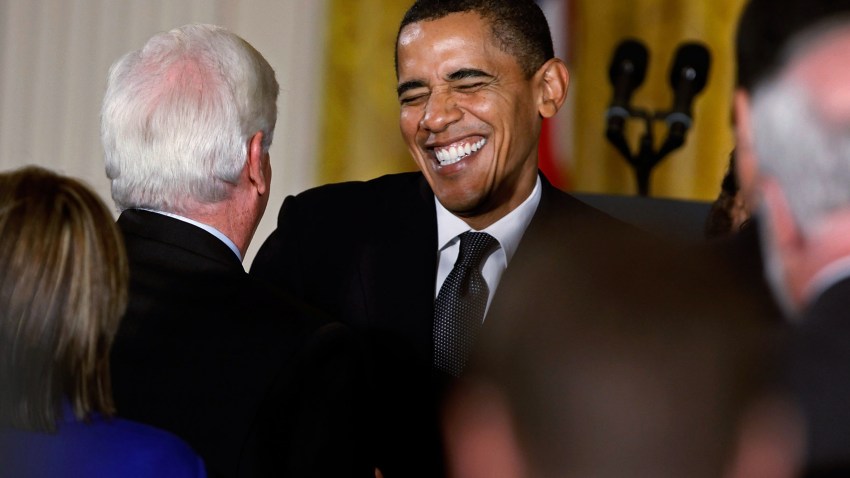 On Friday night, the president is going to be in Stamford to help out Sen. Chris Dodd, and it's the first time the town has seen a sitting president since 1996.
Bill Clinton was the last to come to Stamford, and he was here twice in a short period of time, Lt. Sean Cooney, of Stamford police said.

THE POLITICS
Obama will be attending a $1,000-per-plate fundraising dinner for Dodd at the Hilton Stamford Hotel, after stopping in Massachusetts to help out Deval Patrick.
Dodd is running for reelection in what is predicted to be a tough campaign. The competition includes high-profile locals, including former WWE CEO Linda McMahon, financial pundit Peter Schiff, former Congressman Rob Simmons and former ambassador Tom Foley, among others.
This is the second high-level boost Dodd has received recently. Vice President Joe Biden was here recently to give Dodd a helping hand.
One person, however, who will not be there is Sen. Joe Lieberman, the Danbury News-Times reports.
"While he's delighted the president is coming to Stamford, because of the Sabbath, he won't be able to attend," spokeswoman Erika Masonhall told the News Times.
Lieberman has publicly supported Dodd but his history with Obama is a messy one.
Connecticut's junior Senator chose to support Republican Sen. John McCain over Obama during the last election, but he was back caucusing with the Democrats after the election.

THE LOGISTICS

Stamford police started meeting late last week with U.S. Secret Service, Lt. Cooney said, and the preparation for Obama's two-hour visit has been extensive.

State police from both Connecticut and New York and the Coast Guard have been involved, among others, Cooney said.
The Metropolitan Transportation Authority is also involved because the hotel where the event is happening is a block from the train station.
Stamford police will be responsible for helping with site security and crowd control along the motorcade route, Cooney said.
Because of the shear number of people, it will entail bringing officers in on overtime, he said.
How many officers and what it will cost, he could not say, but it will be expensive.
The regular police shift, from 3 to 11 p.m., will be undisturbed.
"Obviously, we still have the city to protect," he said.
Cooney said he has been impressed with the Secret Service and members of his department are looking forward to working with them.
"We recognize the tremendous responsibility that comes along with providing security for the President of the United States and we want to do everything we can to ensure his visit is safe, secure and successful," Cooney said. "There's a certain pride as an organization that we have. We feel we are a professional and competent organization and we want to demonstrate that," he said.