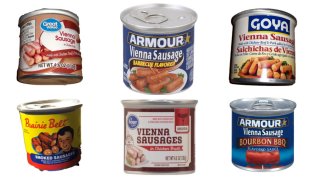 Conagra Brands, Inc. is recalling over 2.5 million pounds of canned meat and poultry products due to a "packaging defect that may cause the products to become contaminated," the U.S. Department of Agriculture's Food Safety and Inspection Service announced Tuesday.
The recalled products were produced at the Iowa-based company's Ford Madison plant between Dec. 12, 2022 and Jan. 13, 2023 under popular brand names like Armour, Goya, Kroger, Walmart's Great Value, Hargis, Prairie Belt and Valrico.
The products subject to the recall bear the establishment number "P4247" on the can. They were shipped to retail locations nationwide.
The following products are subject to recall:
ARMOUR STAR CHICKEN VIENNA SAUSAGE
ARMOUR STAR ORIGINAL VIENNA SAUSAGE
ARMOUR STAR POTTED MEAT
ARMOUR STAR VIENNA ORIGINAL
ARMOUR STAR VIENNA SAUSAGE BARBECUE FLAVORED
ARMOUR STAR VIENNA SAUSAGE BOURBON BBQFLAVORED SAUCE
ARMOUR STAR VIENNA SAUSAGE JALAPENO
ARMOUR STAR VIENNA SAUSAGES CHICKEN
GOYA VIENNA SAUSAGE
GRACE CHICKEN VIENNA SAUSAGE
GREAT VALUE VIENNA SAUSAGE
HARGIS HOUSE POTTED MEAT
HARGIS HOUSE VIENNA SAUSAGE
HEREFORD CHICKEN VIENNA SAUSAGE
KROGER VIENNA SAUSAGES
PRAIRIE BELT VIENNA SAUSAGE
VALRICO CHICKEN VIENNA SAUSAGE
The FSIS said the recalled cans were damaged in a way that may not be apparent to consumers, allowing food-borne illnesses to enter them.
Conagra discovered the problem after finding spoiled and leaking cans from various production dates at their warehouse. Approximately 2,581,816 pounds of meat are impacted by the recall.
There have been no reports of an adverse reaction from consuming the recalled product, and the FSIS urges anyone concerned about an illness should contact a healthcare provider.
Consumers who have purchased these products are urged not to consume them and either throw them away or return it to the point of purchase.