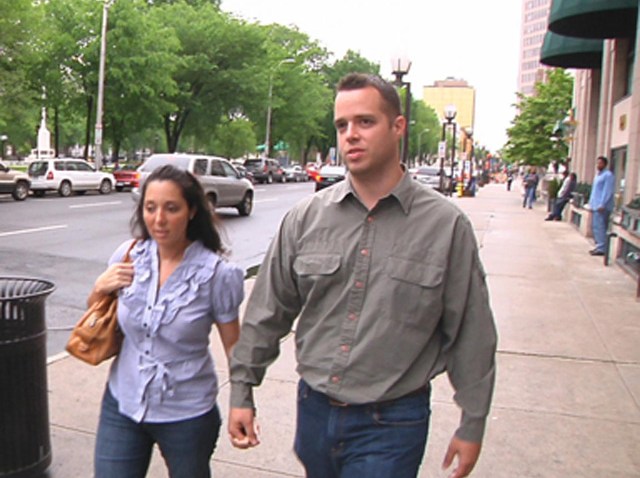 What was supposed to be dream wedding in New York has become an absolute nightmare for a Connecticut couple.
Stacey Rampata, 31, of Milford, and her fiance Charlie McGee were planning to get married this Saturday night at the Monteverde at Old Stone Manor in Courtlandt Manor Westchester.
On Tuesday, they got an e-mail telling them the place was bankrupt, had closed its doors and their wedding was off.

"I don't think I've ever cried so hard in my life as I did last night," said Stacey Rampata, who LoHud.com reports recently moved from New Rochelle, New York to Milford.

Her fiance Charlie tried to console her, but he too was beyond distraught.

"We're gonna have to let everyone know we're going to postpone the reception because we were promised something that we didn't receive."

Rampata and McGee had looked forward to 140 friends and family enjoying a magical tented wedding with a chef trained by Gordan Ramsey and pictures on the sprawling grounds.

They got word of a pending bankruptcy back in January when they were scheduled to make another payment. They called to ask what the problem was, and should they book another venue? They say Monteverde owner Richard Friedberg told them not to worry.

"He basically told us no, that we had nothing to worry about and if we decide to pull out he would forfeit our date and we would have to forfeit our deposit."

So they stuck it out. And now they're out $23,000. A $10,000 down payment and another $13,000 payment sent after they were assured everything would work out. On Monday they finally heard from owner owner, Richard Friedberg, who told them their wedding was tied up in the bankruptcy proceeding and there was nothing he could do.

"We gave this man $23,000 of our savings to have our dream wedding -- it was all that we had to do this," Rampata said.

But there is a happy ending.
A caterer named Guy DeMeo at Unique Affairs Catering in Pleasantville, New York heard about they're desperate situation and is offering up his venue nearly free of charge. It's smaller - not meant for 140 guests, but they're scrambling to make it work for Saturday.

"It's the most important day in their lives and my heart broke for them," DeMeo told NBCNewYork.com.

NBC New York tried to get in touch with Monteverde owner Richard Friedberg and General Manager Ed Pasquale but they have not returned calls.
The bride and groom have hired an attorney to see if they can recover their money, but Friedberg told them he owes millions of dollars and they'd have to wait in line.
Meanwhile, they are warning other couples not to send any more money to the Monteverde.
And a piece of advice for all couples: buy wedding insurance. It's one of the only ways to ensure that your wedding is protected.