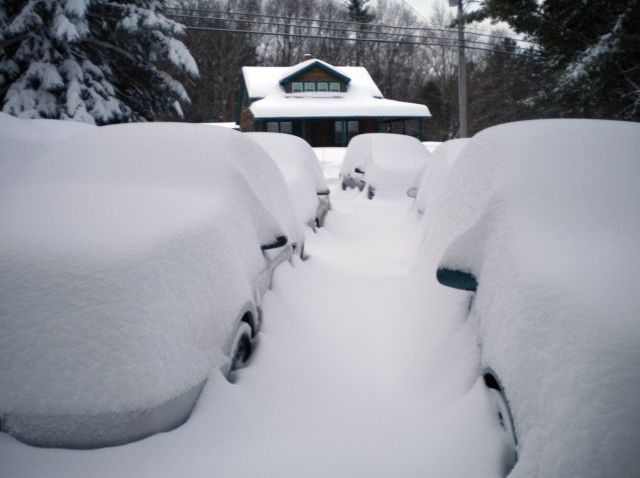 Between storms, a builder in Milford uses his skid loader to plow his neighbors' driveways.
New England has a reputation of being brusque, but people banding together to beat back what's shaping up to be one of the most brutal winters in years.
"It seems to have started a whole grass-roots movement of people helping one another," said Cindy Twiss, a school administrator.
She's among the lucky neighbors of Danny Blanchet, the builder who uses his 7,500-pound yellow "skid steer" to plow Twiss and others out in mere minutes for jobs that would take their shovels hours to complete.
"Last storm I did 35 people," Blanchet said, beaming and decked out in sunglasses and a sweater knitted by his sister. "I just happen to have a bigger shovel than they do. This is a joy for me."
After Blanchet starting showing up with his loader, Twiss said, other neighbors began pitching in. A 14-year-old boy showed up to shovel and refused to take any money. Twiss' next-door neighbor did the whole block with his snow blower.
It's true that this winter's frequent storms -- some areas of the East are on track for record snowfalls -- may be leading neighbors to interact more and help one another cope, said Lauren Ross, an assistant professor of sociology at Quinnipiac University.
"Because there is this need, people are really stepping up," Ross said. "They become people you can empathize with. It's sort of this collective pattern we're experiencing."
Ross said she experienced it herself when she left her condo to dig out her car and neighbors quickly showed up to help. That led her to help other neighbors, too.
Our Facebook viewers are also seeing signs of kindness from neighbors.
Yesterday, we asked you on Facebook whether you had seen neighbors helping neighbors, and many of you had.
Donna Griswold hepled an elderly neighbor so the woman's caergiver could get into the house.
Amy Cordon, of Naugatuck, said her family and some teenage boys helped shovel an elderly neighbor's driveway and mailbox. In return, a neighbor used his snowblower at the end of her driveway, where it was the worst.
"Karma, give out good vibes and you will get some in return," Cordon said.
Laurie Zimmer Smith's sons plow the neighbor's driveways and the private road. They also go down the street to make sure that the other long and hilly private road is plowed.
Debbie Troemel Vaitkus McGee, of Cheshire, Jodi Oliver, of Hartford, Harry Kiernan, of Glastonbury, Emily Ritter, Aimee Gallagher, of Wolcott, Renee Blanchet Dwyer, Debbie Cosme, Vivienne Carey, Carrie Buys Howe, of Hawrinton, and Mark Myerson said neighbors helped with the driveway.

Copyright AP - Associated Press