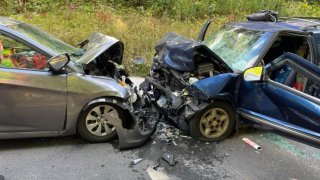 A 78-year-old woman was killed in a crash in Killingly on Wednesday.
The two-car accident happened at about 2:10 p.m. on Westcott Road near Mashentuck Road, according to state police.
Investigators say a Hyundai Accent crossed the yellow line on Westcott Road and hit Chevy Blazer head-on.
The crash killed, Bonilyn Smith, of Danielson, who was a passenger in the Blazer, according to police.
Anyone who may have witnessed the crash is asked to call Trooper Lewis at Troop D at (860) 779-4900.