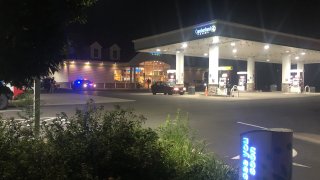 An early morning robbery at a Cumberland Farms in Rocky Hill is under investigation.
Officers were called to the store on Cromwell Avenue around 3:40 a.m.
Police said a man and a woman stole an entire cash register and cigarettes.
During the incident, authorities said the clerk was pushed down to the floor and suffered minor injuries.
Investigators said the woman is about 5-feet tall and the man is thin, is about 5-foot 10-inches tall, dressed in all black with a black face mask and gloves. Information about a suspect vehicle is unknown at this time.
The investigation is ongoing.