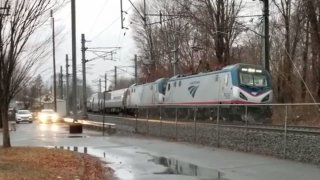 A man has died after he was hit by a train in Madison Thursday.
"(A)n individual was trespassing on the tracks in Madison, CT when they came into contact with Amtrak Northeast Regional train 66 at 5:10 am on its way from Newport News to Boston," Amtrak said in a statement.
The man was identified as 47-year-old Kevin Dalton, of Madison.
Amtrak said none of the 35 passengers on board or crew members were injured. The Northeast Regional train was delayed for around an hour and 40 minutes due to the crash.
Amtrak police are working with local police to investigate.
Shore Line East service was also affected and has since resumed.
"All individuals should exercise caution around railroad tracks and crossings. Amtrak continues to work closely with Operation Lifesaver (OLI) to communicate the dangers of grade crossings," Amtrak said in a statement.
The company said around 2,000 people are killed or injured in grade crossing and trespassing incidents nationwide each year.  
More details were not immediately available.