A major nor'easter has brought more than a foot of snow to several Connecticut towns.
Snow started early this morning and several schools were closed for the day, as were businesses, including Westfarms mall.
The storm also affected mass transit.
Highways remained open and police remained busy responding to several issues.
State police said they have responded to 105 crashes, 553 spinouts and stuck vehicles, as well as many calls for service from 5 a.m. to around 4 p.m.
AAA, Greater Hartford has been responding to about 100 calls an hour in the greater Hartford area alone since 11 a.m. They said most of the calls have been for vehicles that have gotten stuck.
While the highways remained open, Gov. Dannel Malloy has been asking people to stay indoors if possible.
"We urge people to stay indoors and don't get in your car unless you absolutely have to. Our highways are open and will remain open, we anticipate. That is always subject to change," Malloy said. "But we are also attempting to coordinate all our activities with our neighboring states of New York, Rhode Island and Massachusetts."
[HAR] Playing in the Snow
The governor kept nonessential first- and second-shift state employees home from work on Thursday, but expected that state offices will be open Friday as long as parking lots can be cleared.
The governor activated the state's emergency operations center, or EOC, at 5 a.m. and it will remain open until 5 p.m. At that point, the state will go into cold weather protocol.
Because of the storm, anyone whose car registration or drivers license expires today or tomorrow will have until next Wednesday to renew without penalty.
The governor said the state has 700 National Guard members ready to respond if needed.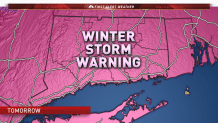 Schools were closed across Connecticut and some, like Hartford and Waterbury, planned to stay closed on Friday. You can sign up here for school closing alerts. You can find the latest list of school cancellations by clicking here.
NBC Connecticut Meteorologists are forecasting between 12 and 18 inches statewide with isolated higher amounts.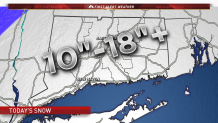 Snow, including thundersnow is overspreading the state, and will continue falling.
The heaviest snow will be falling between 8 a.m. and 2 p.m. and wind down between 3 p.m. and 6 p.m.
The state Department of Transportation had all 634 state plow trucks and 250 contractors out on the roads on Thursday, the governor said.
"At 8 to 14 inches, this starts to get to the type of coverage and amounts of snow that could be harder for us to handle," Malloy said.
Follow NBC Connecticut traffic reporter Hannah Mordoh for the latest on traffic issues.
The storm is affecting mass transit.
The Connecticut State University System, including UConn, was closed on Thursday, as were state courts, according to Malloy.
Aetna's Hartford office is closing today, according to an Aetna spokesperson.
DOT officials are urging people to stay home and off the roads if possible. But, if you need to be out, leave plenty of extra time to get to your destination.
[Har] Ice Coats Parts of Connecticut