Evening Update
Wow! What a storm this has been in the Litchfield Hills. This morning's 3"-5" in some of the higher elevations has continued with a remarkable "upslope" snowstorm into this evening. Basically, cold and moist air is being forced up over the ridges/hills in Litchfield County and dumping an additional 3"-5"+ in towns like Warren, Goshen, and Norfolk. There is also a second maxima right along the New York border in Lakeville and Sharon with a local minima in places like Cornwall and Falls Village.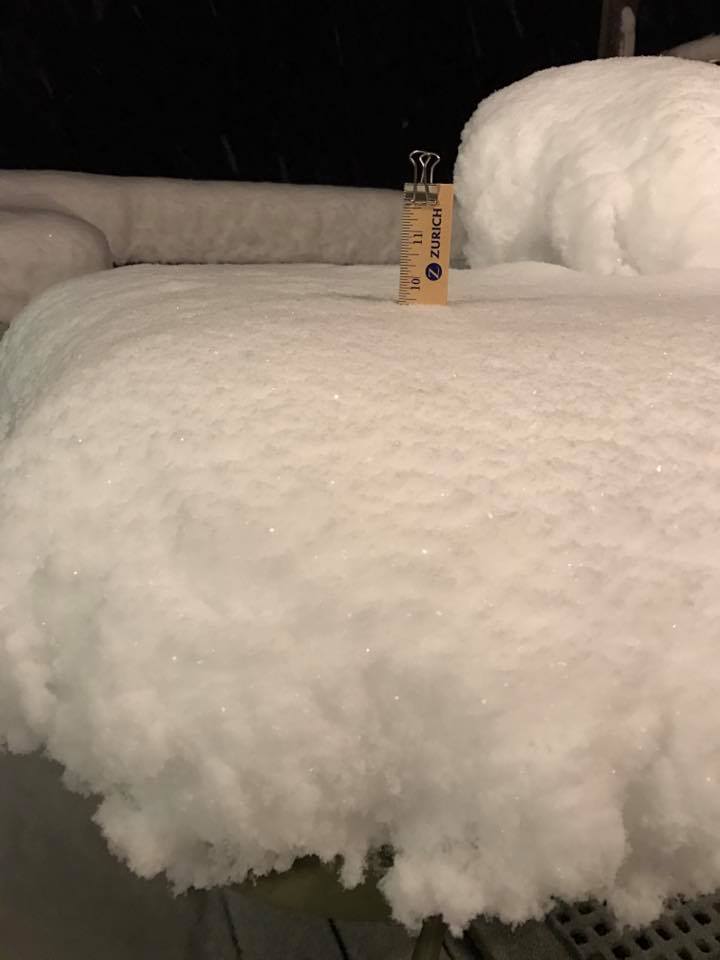 There were some signals for bursts of moderate snow through the day and evening but I did not expect this! This is the most impressive "upslope" storm I can remember in Connecticut - it's generally really hard to get more than an inch or two around here on the backside of a low.
There's a HUGE gradient here. Less than an inch of snow has fallen in Torrington and Winsted and just a few miles away on the ridge in Goshen and Norfolk there's been 10". While "upslope" helps the hill towns the opposite effect - downsloping - forces air to sink and result in little precipitation along the Route 8 corridor in the Valley.
As always these storms are fascinating as a weather geek to witness, frustrating as a weather geek (I barely got a flake), and humbling as a meteorologist.
Earlier Update
As expected, snow is accumulating in the Northwest Hills this morning from a dynamic little storm and colder air filtering in from the west. We've seen reports of 1"-3" of snow this morning in the higher elevations and the heavier snow is beginning to wind down.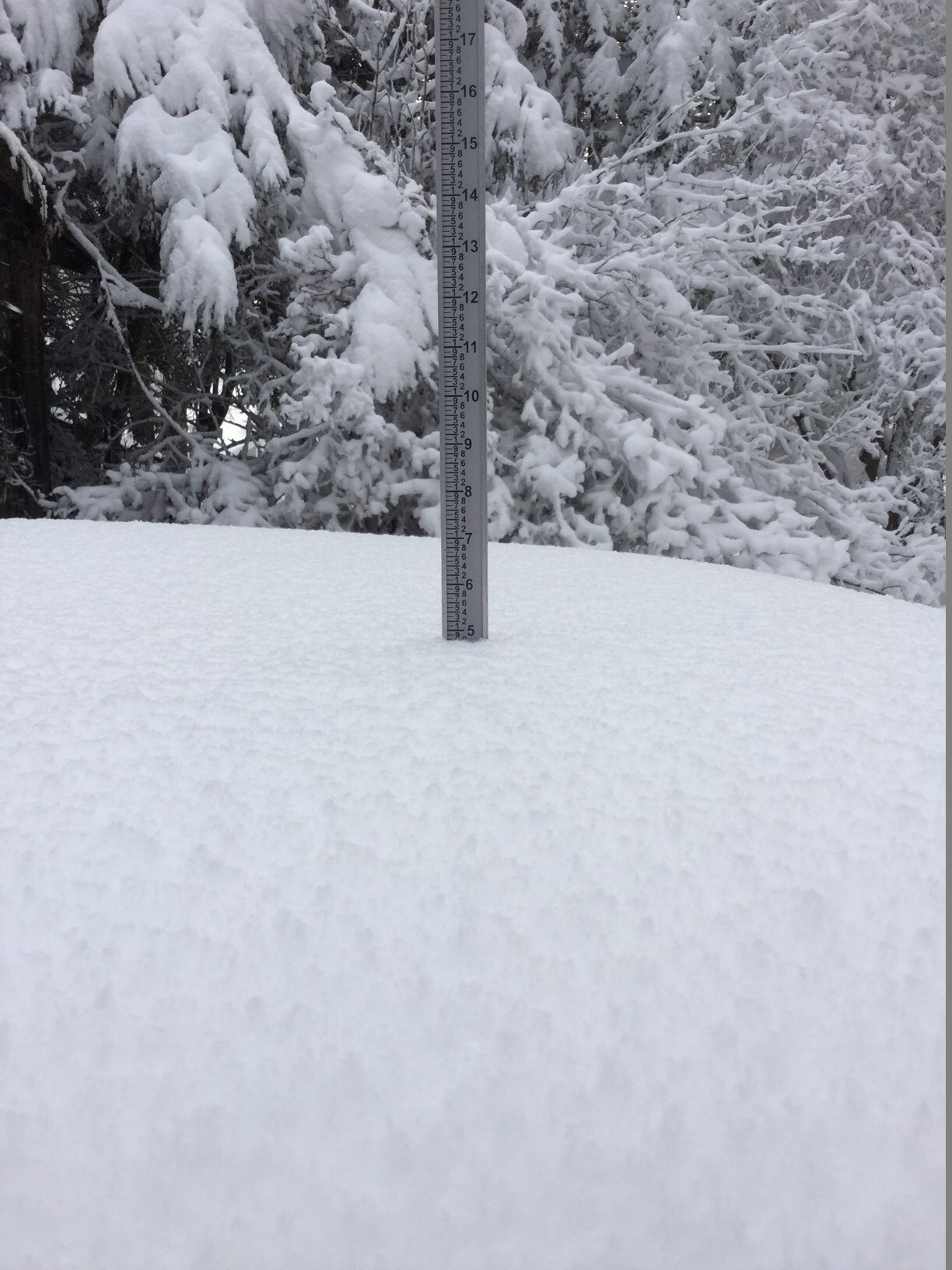 In Norfolk cooperative observer Russell Russ reported 4.8" of snow at 1,600 feet at the Great Mountain Forest! It appears that there's a zone of 3"-5" of accumulation on the ridge in Norfolk and Goshen. In the valley around Winsted only 1" of snow accumulated and even eastern Colebrook only reported 1.3" this morning at 7 a.m.
While I'm not shocked that Norfolk managed nearly 5" of snow (there were some hints of this heavy burst on the models) it definitely managed to overperform a bit.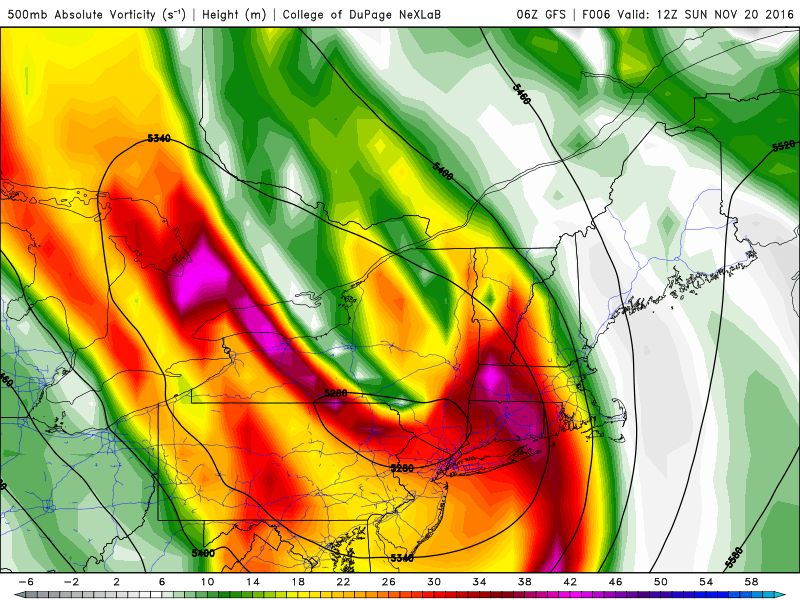 This mornings snow over the Hills came as an upper level low closed off and drifted over Litchfield County. You can see that here on the 6-hour GFS forecast valid at 7 a.m.. As the low drifts north into Berkshire County, Massachusetts through the day today the snow will shift north as the best lift in the atmosphere is featured along and north of the upper level low. Generally, you want to be under or just on the left side of one of these strengthening upper level lows to get significant precipitation.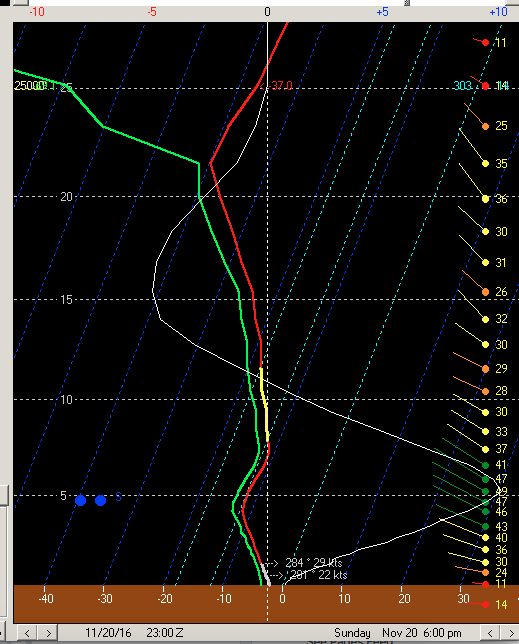 That said, snow showers will continue off and on through the day and tonight in the Northwest Hills due to upsloping. What's upsloping? Northwesterly wind over the Hudson Valley in New York will be forced to rise over the Litchfield Hills. As the air is forced up and over the change in elevation clouds form and precipitation can fall. Think of it this way - as air blows toward a mountain it can't blow into the ground - it has nowhere to go but up!
It's unusual for this to produce heavy snow in Connecticut - but it appears there's just enough moisture for this upslope snow to continue in the hills. I wouldn't be surprised to see an additional 1"-3" in some towns above 1,000 feet through Monday morning. Farther north, upsloping is how the spine of the Green Mountains in Vermont gets the majority of their snow - cold, moist air being forced up and over the 4,000 foot peaks.
While Litchfield County gets their own personal snowstorm the rest of the state is not looking at much snow at all. Occasional snow showers are possible tonight and into tomorrow morning.
The one thing the I'm concerned about, however, is lake effect snow coming off Lake Ontario. Once in a while these plumes can make it all the way into Hartford or New Haven and can cause some brief accumulation. It's almost impossible to forecast this ahead of time but it's something I'm watching for.

Wind will become an issue later today, tonight, and Monday. Model soundings indicate gusts of 40-50 mph will be widespread. This may result in scattered tree damage and power outages. The above model sounding for New Haven valid tomorrow afternoon shows winds of 55mph at 5,000 feet above our heads. With a well mixed atmosphere a large chunk of this will be able to be mixed to the ground.