A 23-year-old college student suspected in two homicides, a brutal attack, a home invasion and an abduction in Connecticut is in custody in Maryland and will be brought back to Connecticut soon. Police said the motive of the crime spree he is accused of is unclear.
Two Connecticut State Police detectives were in Hagerstown, Maryland on Wednesday night because they had received a tip that Peter Manfredonia might be in the area.
Lt. Michael Pendleton, the commanding officer of the state police central district, said detectives were talking to U.S. Marshals about the suspect, including his height of 6-foot-3 or 6-foot-4, when they turned and saw a 6-foot-4 man in red sneakers about 20 feet away.
"The side-view profile matched the photos that we had," Pendleton said.
It was around 9 p.m. and the team went over to Manfredonia and told him to get on the ground, Pendleton said.
Pendleton said no force was used in the arrest, which happened in the parking lot of a travel center on Halfway Boulevard.
"He wasn't agitated at the time," Pendleton said. "He followed all directions from law enforcement as they drew down on him."
Pendleton described him as "cooperative" at the time of arrest.
Police said Manfredonia then led officers over to a black bag located about 200 yards away that contained a weapon.
Manfredonia appeared in district court in Maryland on Thursday afternoon.
Manfredonia waived his right to have an attorney represent him and voluntarily waived extradition, according to the court.
State police plan to extradite him from Maryland next week or the week after.
The arrest came after a five-day search that spanned three states.
Connecticut State Police said they do not know where he was headed when they arrested him.
Ted DeMers Killed in Willington
Connecticut State Police have been searching for Manfredonia since identifying him as a suspect in a spree of crimes in the state that started on Friday with two brutal attacks in Willington.
The 23-year-old is accused of attacking 62-year-old Theodore DeMers and another man on Mirtl Road in Willington on Friday morning.
DeMers died from his injuries while he was being taken to the hospital, according to police His death was ruled a homicide.
DeMers' sister-in-law, Pat Jones, said her brother-in-law drove Manfredonia down to a motorcycle parked in a cul-de-sac at the end of the road and neighbors told the family that the suspect was wielding a weapon at him and an 86-year-old neighbor who came out of his home to stop the attack.
The neighbor was wounded in the head and hands and is still in the hospital, according to Jones. Police have not released the name of the wounded victim.
Police said as of Tuesday afternoon the second victim is in stable condition.
Jones said Manfredonia got on his motorcycle and drove off after another neighbor yelled at him to stop.
The DeMers family shared a statement with NBC Connecticut on Thursday:
"We are relieved that the suspect is now in custody and no additional people were hurt. We feel deeply for the Eisele family and their loss.
Ted lived an amazing life and touched many people along the way. His love for life was infectious, his strength displayed living through a 40 year battle with Crohn's Disease.
We've felt comforted by the outpouring of love and support from those who knew and loved Ted, as well as from neighbors & community members.
As his family, we will forever cherish the memories we made with him in his 62 years of life. He was always so proud of his family and it's our time now to be proud of him - we believe that his heroic actions and good citizenship may have saved the lives of others.
He created so much from nothing and we are honored to carry on his legacy. "
Home Invasion in Willington
On Sunday, Manfredonia broke into a Willington home and stole pistols and long guns, state police said.
The homeowner, who was home at the time, was not injured and refused medical treatment, according to state police.
Police said Manfredonia stole the homeowner's vehicle and drove to Derby, where police found it abandoned in the area of Osborndale State Park.
Police learned of the home invasion after checking the home of the vehicle owner.
Nicholas Eisele Killed in Derby
During their search for Manfredonia, police checked a home on Roosevelt Drive in Derby after receiving a 911 call for a well-being check at 11:04 a.m. on Sunday.
They found 23-year-old Nicholas Eisele, an acquaintance of Manfredonia, dead from a gunshot wound to the head.
It's not clear how the two men knew each other.
State police said it appears Manfredonia was responsible for the man's death.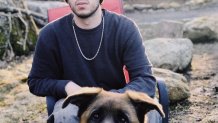 Abduction from Derby
Manfredonia is also accused of kidnapping Eisele's girlfriend.
Derby Police were in the process of working on a Silver Alert w for hen authorities in Patterson, New Jersey, notified them that they had found her and her 2016 black Volkswagen Jetta at a rest stop at 1:04 p.m. on Sunday.
She was unharmed despite being taken from the Roosevelt Drive residence against her will, Derby Police said.
She was brought back to Connecticut and identified Manfredonia as her captor, state police said.
Photos: Manhunt Continues for UConn Student Suspected in Two Homicides
Manhunt Expands to New Jersey and Pennsylvania
As the search continued for Manfredonia, Pennsylvania State Police said they determined an Uber dropped him off in front of a Walmart in East Stroudsburg and they spoke with the driver and recovered camera footage.
They were then able to determine that Manfredonia walked behind the store and other businesses and onto a set of train tracks on Sunday.
Pennsylvania State Police said Manfredonia had also been seen at a Sheetz in Chambersburg, Pennsylvania and took an Uber from the Sheetz to Hagerstown, Maryland, which is where he was ultimately found.
Peter Manfredonia Taken Into Custody
Peter Manfredonia was arrested shortly after 9 p.m. Wednesday in the parking lot of a travel center on Halfway Boulevard in Hagerstown, Maryland, according to Maryland State Police.
He was held as a fugitive, pending extradition, which is expected next week or the week after.