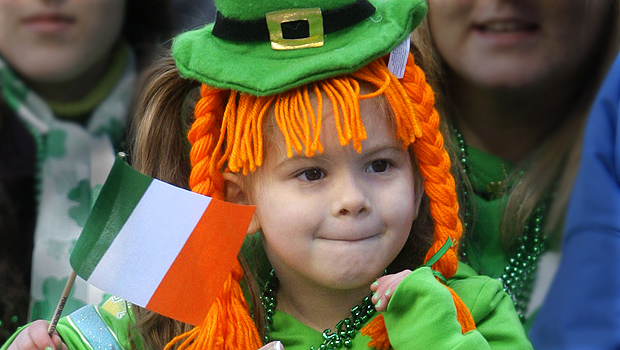 If you're looking for your green beer and corned beef and cabbage fix this St. Patrick's Day, you don't have to go very far. And with the holiday falling on a Wednesday this year, the festivities will be going on all week.
If you're looking to celebrate with the masses, there are plenty of parades being held throughout
Connecticut
:
Litchfield Saltwater Grille
is hosting a beer tasting and lunch on March 17 at noon. For $30, you can enjoy a seven-course "Pub Style" tasting menu paired with six beers.
Menu items include traditional Irish foods such as corned beef and cabbage, Irish soda bread, and boiled potatoes amongst other things. Attendees will learn how to "pour the perfect Guinness" and how to test the quality of various beers, according to the Litchfield Register Citizen. A collection of 250 American tap handles will also be on display at the event. To make a reservation, call (860) 567-4900.
O'Neill's Pub and Restaurant on North Main Street in Norwalk will have an entire day devoted to St. Patrick beginning at 8 a.m. with bagpipes and a Guinness and Irish Breakfast Buffet for $15. The live music will continue all day, with a buffet lunch at 11:30 and a $15 buffet dinner at 3 p.m. featuring traditional Irish step dancing by the Lenihan School of Irish dance.

Of course there are several places where it's always St. Patrick's Day, including Eli Cannon's in Middletown, the Half Door in Hartford, Playwright Irish Pub in New Haven or Hamden and Anna Liffey's in New Haven,
The celebrations will conclude with the 6th annual St. Patrick's Day Parade in Mystic on Sunday. The parade starts at 1 p.m. by the Mystic Seaport Museum and ends by the Mystic Art Museum.
There is a lot of myth and mystery over St. Patrick and details of his life and his actions, including banishing snakes from Ireland, according to History.com. What is known is that he was English and became a priest in Ireland who chose to incorporate traditional rituals in his lessons of Christianity rather than do away with native Irish beliefs. From there, his legacy became exaggerated and legends developed, according to History.com.