Hurricane Dorian provided scattered rain showers and gusty winds during the early morning hours on Saturday.
As Dorian continues to move to the north the cloud cover is moving out and abundant sunshine is on tap for the remainder of the weekend.
Winds will be a bit gusty with a northerly wind between 10 and 20 mph.
Take a look at forecasted high temperatures for today: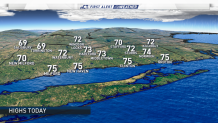 We're expecting highs in the upper 60s to low 70s for inland areas with temperatures rising into the middle 70s along the shoreline.
The pleasant weather will continue right into Sunday with partly cloudy skies and temperatures climbing into the middle 70s statewide.