University officials said a hazmat incident caused evacuations on the University of Connecticut Storrs campus after an incident in a science lab.
Officials said the incident happened at around 4 p.m. when a person cleaning lab equipment accidentally mixed two chemical substances, which caused the container to break. This created an odor in that fourth-floor lab and nearby.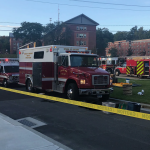 As a result, everyone in the Gant buildings was evacuated. This includes the West, North and South buildings, school officials said in an alert to students and staff.
The building was fully evacuated as a precaution, a university spokesperson said.
Officials say the incident was confined to one area. A spokesperson for UConn said the incident was minor and one person was evaluated.
No injuries were reported and the building did not sustain damage.
University officials stated that the Gant building hazmat situation is now stabilized and under control.
Public safety personnel and the Department of Energy and Environmental Protection helped at the scene and people were asked to avoid the area, according to officials. The Gant Science Complex reopened at 6:30 p.m. and the fourth floor reopened a short time later after officials cleaned and cleared the lab.
The lab involved in the incident will remain closed throughout the weekend, according to the university.