Besides the 1938 hurricane, the 1955 flood was arguably the greatest natural disaster in Connecticut since colonial times.
The amount of rain that fell in August 1955 is so off the charts no event has come anywhere close to it in the last 100 years. That year's monthly record of 21.87″ at Bradley Airport stands alone as the wettest month on record – the second highest 16.32″ from October 2005 lags far behind.
Hurricane Connie made landfall over the Outer Banks as a minimal hurricane on August 12, 1955. The storm moved slowly up the Chesapeake Bay and dumped 5″-10″ of rain in portions of northwest Connecticut. Connie barely produced any wind in Connecticut as she passed to the west but dropped enough rain to saturate the soil and raise river levels above flood stage.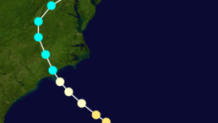 Five days after Connie, Hurricane Diane made landfall in North Carolina very close to where Connie struck. The storm moved inland and then was picked up by a strong trough diving into Michigan's Great Lakes. An exceptional band of rain setup over northwest Connecticut and western Massachusetts as the storm passed over Long Island. Having 10″-20″ of rain was common in many areas. When preceded by Connie's 5″-10″ of rain Diane's record 24-hour rainfall was enough to push rivers to levels that hadn't been seen in hundreds of years.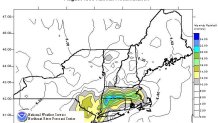 The all-time 24-hour rain record in Connecticut occurred on August 19 in Burlington with 12.77″ falling. In Westfield, Massachusetts, an incredible 1-day total of 19.75″ fell. A close look at the 8-day rain totals from August 12, 1955 to August 20, 1955 reveal just how exceptional this flood event was.
A streamline analysis of Hurricane Diane in the August 1955 Monthly Weather Review shows a stalled out front across Connecticut between 0730 EST August 18, 1955 and 0730 EST August 19, 1955, out ahead of Diane's circulation. For nearly 24 hours, strong convergence setup across Connecticut with deep tropical moisture advecting northward from Diane.
A preliminary report by the U.S. Weather Bureau from August 25, 1955 includes hourly rainfall totals for Bradley Field which are incredible. Here's an excerpt from that report:
The rains in southern New England were prolonged as the storm center which was moving eastward directly along the 40º parallel for about 12 hours from 5 p.m. of the 18th to about 5 a.m. of the 19th, recurved to an east-northeast direction paralleling the southern New England coast. The hourly precipitation rates recorded at the Weather Bureay office at Bradley Field, Windsor Locks, Conn., are shown on the map. Until about 9 p.m. on the 18th, the intensities fluctuated considerably, but from then to 10 a.m. on the 19th the rate was quite constant, averaging nearly .6 inch per hour for 15 hours. The greatest amount from this record in a 24-hour period, 12.05 inches, is from 10 a.m. August 18 to 9 a.m. August 19. This compared with the previous maximum 24-hour rainfall of record at Hartford, Conn., of 6.82 inches occurring on July 13, 1897.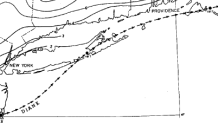 The 1955 floods destroyed entire neighborhoods, entire downtowns, and entire families. Waterbury, Winsted, Naugatuck, Derby, Ansonia, Farmington, New Hartford and Putnam are just some of the towns and cities that were changed forever.
With the amount of rain that fell it's not surprising the 1955 floods set records on the Quinebaug, Farmington and Naugatuck Rivers. The Army Corps of Engineers built a monstrous system of levees and dams on those rivers to prevent a flood like the '55 one from happening again. Barring an unforeseen catastrophic failure of the dam and levee system a flood to the level of 1955 will never happen again on those rivers.
1955 Rain Totals (From Coop Stations)
Barkhamsted – 25.06″
Connie – 9.11″
Diane – 15.95″
Burlington – 24.65″
Connie – 8.73″
Diane – 15.92″
Norfolk – 21.81″
Connie – 8.93″
Diane – 12.88″
Warren – 18.60″
Connie – 7.74″
Diane – 10.86″
Windsor Locks – 18.42″
Connie – 4.02″
Diane – 14.40″
Falls Village – 16.83″
Connie – 6.75″
Diane – 10.08″
Danbury – 14.83″
Connie – 8.74″
Diane – 6.09″
Hartford – 11.75″
Connie – 3.90″
Diane – 7.85″
Prospect – 10.96″
Connie – 3.41″
Diane – 7.55″
Middletown – 10.90″
Connie – 4.53″
Diane – 6.37″
Bridgeport – 8.34″
Connie – 5.32″
Diane – 3.02″