Strong winds have brought down trees and wires in several towns across Connecticut on Friday.
The nor'easter has brought wind, rain and snow and that is wreaking havoc in many communities.
One person was reported dead after a tree fell on their car on Route 15 south near exit 33. Another occupant was transported to the hospital for evaluation.
More than 70,000 customers between Eversource, United Illuminating and Norwich Public Utilities were without power. Crews continue to restore power.
Bradley International Airport was open, but there are flight cancellations, according to the Connecticut Airport Authorities. Approximately 40 percent of Friday's arriving and departing flights were canceled, an airport spokesperson said.
"Passengers who are scheduled to travel tomorrow are advised to check with their airline on their individual flight itineraries and any potential rebooking options before heading to the airport," Bradley airport's spokesperson said in a statement.
Amtrak service between Washington, D.C. and Boston is suspended until Saturday.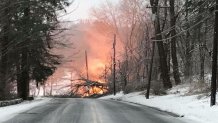 Rep. Brian M. Ohler tweeted out this photo from the Lakeville Hose Co.
""This tree down on wires (Rt. 44) is what is causing the majority of Lakeville and Salisbury to be without power. Eversource has a rep on scene and working to get it cleared up. #ctwx #firstalert," he wrote.
A tree came down on cars and a home on Canner Street in the Prospect Hill neighborhood of New Haven.
Trees and wires are down on Burnham Road in Avon.
A pole came down across Mountain Road, or Route 168, just west of the Spaulding School, in Suffield.
A tree came down on several vehicles at Lombard and Poplar streets in New Haven Friday morning, crushing the front of one car. It happened right in front of the fire department, so the emergency responders arrived at the scene quickly and freed the trapped driver. The driver was then taken to the hospital to be evaluated but did not appear to be injured, officials said.
The tree also hit the back of a parked pickup and dented the bed. No one was in the truck at the time.
The intersection of Island Road and Route 1 in Madison was blocked in Madison after a large tree fell and took down powerlines.
Trees came down on the Wilbur Cross Parkway, between exits 62 and 61 in Hamden and the road was closed, but has reopened.
Jones Family Farms in Shelton Tweeted that the road is closed at the Homestead Winery location because a tree is down.
A tree came down on Route 69 in Burlington, near Milford Street and another came down on Hartford Turnpike, near Upper State Street, in North Haven.
The Belltown Fire Department in Stamford Tweeted out a photo of a tree down on Vine Road, near Pepper Ridge, this morning.
A wire came down in Wilton, closing Chicken Street by Branch Brook Road.
In Milford, a wire came down in the area of 342 Woodruff Road and almost 1,300 United Illuminating customers were without power. Power has since been restored.
Officials also responded to the area of Clapboard Hill Road in Westport after reports of a tree and wires coming down.