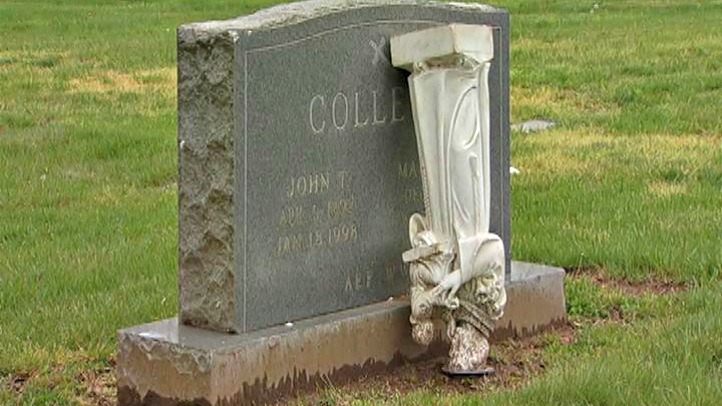 They struck again and targeted the dead. Just months after vandals toppled dozens of headstones at a West Haven cemetery, there were signs of them coming back over the weekend. More than a dozen gravesites were ruined at St. Lawrence Cemetery.
It was a disturbing sight families never could have imagined. "I don't know why people do things like this," George Velardi said. Fifteen gravestones at the St. Lawrence Cemetery were desecrated sometime over the weekend when someone tore them down. "Would you like them to do it to you when it's your turn," questioned Velardi.
He was outraged on Monday night considering his aunt Mary's gravesite was one of them. "It's terrible my uncle put his heart and soul into buying that stone for my aunt and it's not right," Velardi added. He said telling his uncle about the damage, wouldn't be an easy task. "He's going to be devastated, he's in his nineties, he's going to be devastated," Velardi explained.
This wasn't the first time something like this happened here. The cemetery was actually targeted back in February. At the time, police said someone destroyed nearly twenty of the religious figures on gravestones, and they were scattered across the lawn. "Just cut it out, get a life, get a job do something leave them alone let the dead rest in peace," Velardi exclaimed.
Just like investigators, George Velardi wants to know who's behind the horrific crime. "People are nuts this world is really crazy," said Velardi. Everyone is now hoping they don't come back and cause families in mourning even more hardship.
At this point it is unclear if the two cases are related. If you have any information call West Haven Police.