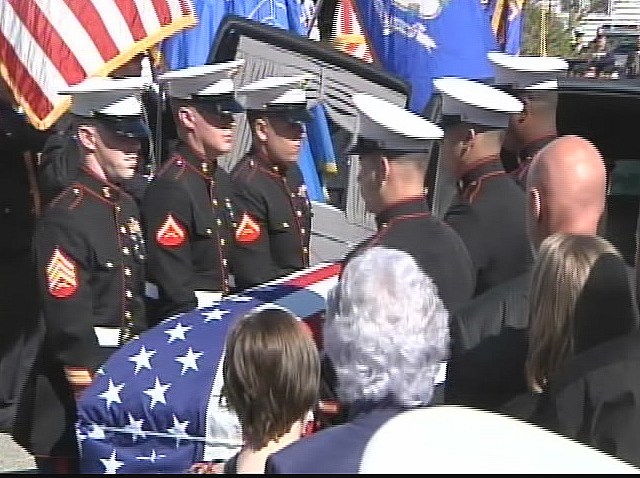 On Wednesday morning, even people who had never met Lance Cpl. Tyler Griffin lined the streets of Voluntown to pay final respects for a young Marine whose life ended tragically in Afghanistan.
Griffin, 19, was one month into his first tour when he was killed in the line of duty by an IED explosion. He died on April 1.
The loss has brought a town together in mourning. Hundreds of people attended Griffin's wake on Tuesday to show their support. On Wednesday morning, many more were there are his family and friends said goodbye.
Terry Chenette drove Griffin's school bus when he was a child and said he always wanted to be a Marine
"(He was) a very kind soul. A good boy," Chenette said. "(He'd) give his shirt off his back to anybody."
The funeral was held at 10 a.m. at Voluntown Baptist Church and will be private, but Gov. M. Jodi Rell was expected to attend. The services ended around 11:30 a.m.
Elected officials have also come together in Griffin's memory.
"When a young, patriotic, heroic young man like this falls in battle we all feel the pain." former Congressman Rob Simmons said.

Because Wednesday's funeral service was private, the town decided to hold a public reception at Constitution Field to give the community a chance to honor Griffin. To accommodate everyone, the town hall, library and elementary school were closed. Some roads are also closed. Expect detours for eastbound traffic on Route 138 until late this afternoon.

"That's what I'm here for, To thank Tyler and to let his family know that they're not alone. We're all in this together." Anna Florczak, of Connecticut Marine Moms, said.
Griffin's internment will be in the Arlington National Cemetery, Virginia.
In lieu of flowers, donations can be made to the Wounded Warriors of R.I. and the National Museum of the Marine Corps in Quantico, Virginia