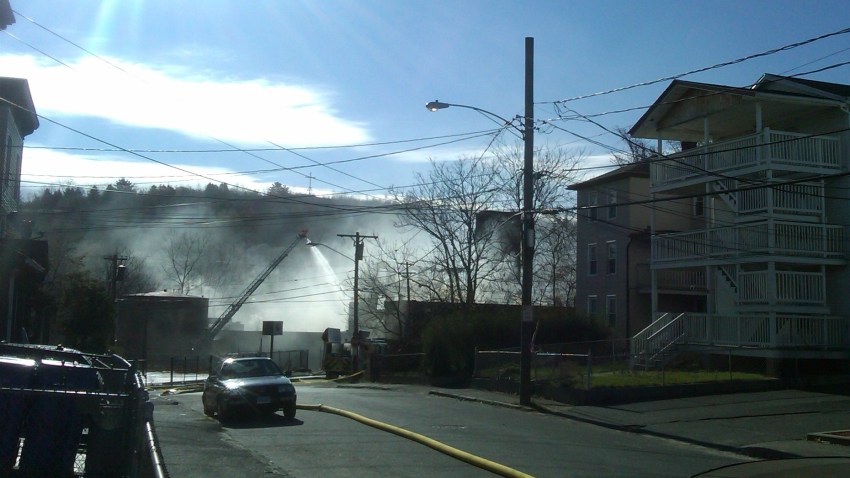 Waterbury fire officials said the fire that has been burning in an abandoned factory for a third straight day appears to be the work of an arsonist.
The fire broke out around 5:50 p.m. on Saturday at the former Nova Dye & Print Corp. on East Liberty and Mill streets, which was once a clothing mill.
"The fire spread very quickly. There's no utilities to the building, so we suspect it was caused by human hands at this point," Waterbury Police Capt. Christopher Corbett said.
There have been at least six fires at the factory in the last year, as well as other fires in the area.
"Two months ago, there was a fire. A lot of homeless people coming in and out of there. That's probably what happened, somebody probably set it up," resident, James Minicucci said.
Investigators are trying to determine if this is the work of a serial arsonist.
"We are creating a map of all our fires over the last nine months and looking to see if there's any correlation," Fire Chief David Martin said.
When the fire began, thick black clouds of smoke billowed into the air as firefighters wrestled for control over the flames over the weekend.
Tyler Bailey provided aerial video of the fire.
By Monday, the building was reduced to a pile of rubble and firefighters were still putting water on the fire.
"The biggest issue is probably the old oil-soaked floors -- it is an old mill -- which is common in a building like that. There was a problem with the building being empty the last 10 years and we did have a lot of people dumping various debris there, a lot of it is unknown," Martin said.
No injuries have been reported, but there was plenty of property damage. The exact cause of the fire is still unknown.
Waterbury Mayor Neil O'Leary said something needs to be done with the site.

"We're going to seek some state assistance to make this a safe site, to control the environmental hazards and hopefully, ultimately knock it down to put some open space here or some housing," O'Leary said.
A cash reward has been offered for information leading to an arrest and conviction connected to the fire, according to police.
Copyright AP - Associated Press