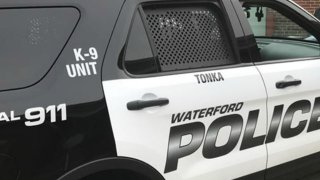 Waterford High School was evacuated after a call indicating a threat and students are being dismissed, according to police.
A Facebook post from Waterford police says the high school received a call this morning indicating a threat to the Waterford High School.
Administration immediately followed safety protocols and evacuated the building and Waterford Police responded. 
Police said they are investigating and students and staff are safe.
Large areas in the school were secured and the students were brought inside to secured areas to stay warm and dry.
Students will follow the normal dismissal procedures. Students who drive to school will be allowed to leave the high school and buses will be arriving.
If there is a change to the transportation for a student, parents are asked to call the main office at Waterford High School at 860-437-6956 and the school staff will get word to the student.