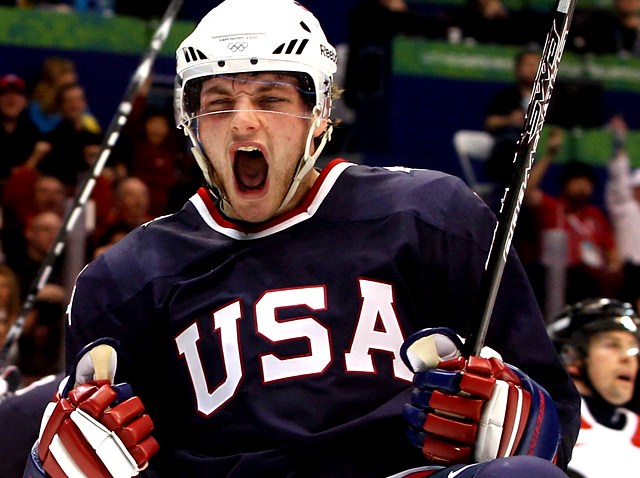 BIG DAY FOR MEN'S HOCKEY
If you love ice hockey, then day 13 is your day. There will be plenty of action going on today with four hockey games. At 3 p.m., watch Connecticut's own Chris Drury and Jonathan Quick on NBC as they represent team USA when they face off against Switzerland. Later, Russia and Canada will go head-to-head at 7 p.m. on CNBC; at 10 p.m., you'll see Finland face the Czech Republic.
GALLERY: Jonathan Quick's High School and College Years
GALLERY: U.S. Men's Olympic Hockey Team
GALLERY: Team USA Celebrates Win Over Canada
HITTING THE SLOPES
The women are busy today with three events in skiing. Check out Alpine skiing this afternoon at 1 p.m. and 4:15 p.m. online. And if you want to watch the freestyle ladies catch some serious air, tune in tonight at 10:30 p.m. for the aerials. See who will be the new star of women's freestyle skiing, with defending champ, Evelyne Leu of Switzerland, out of the competition. And of course we can't forget the men. Check out men's cross-country skiing tonight during primetime on NBC.
GALLERY: Men's Aerials
GALLERY: Lindsey Jacobellis, Model Olympian
CRAZY FOR CURLING
A game of strategy, curling has many people mesmerized. And fans will not be disappointed today. The men of Sweden and Great Britain will battle it out today on the ice at 5 p.m. You can see the action live on MSNBC.
GALLERY: What Shouting Curlers are Really Saying
GALLERY: Crazy Curling Pants
BOBSLEDDING
Cheer on Farmington native, Erin Pac, tonight during the women's bobsled events. The bobsled course was altered Monday due to crashes. Tune in at 8 p.m. on NBC and 9:15 p.m. to see if the new track really is easier to navigate. The gold medal round airs tonight.
GALLERY: Women's Bobsled
GALLERY: Model Olympian Erin Pac
NEED FOR SPEED
Is fast-paced excitement what you're looking for out of the Olympics? Then you won't want to miss the speed skating events. See who will dominate in women's speed skating this afternoon at 4 p.m., and round out the night with no less than three short track events. The women will zoom around the track twice tonight at 8 p.m. and again at 9:26 p.m. on NBC. And those events will are separated by yet another short track event – Check out USA's star in short track in the men's event at 8:47 p.m.
GALLERY: Speed Skating Wipeouts
GALLERY: Day 9 - Apolo Ohno Makes History