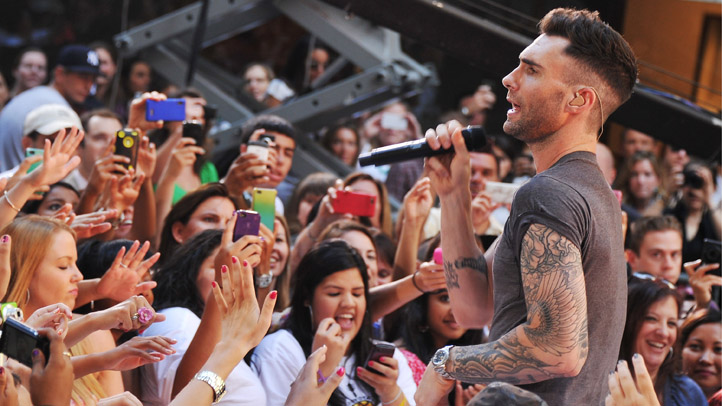 "The Voice" doesn't return to television until after the Super Bowl next year, but Adam Levine is creating a stir already by admitting in a new interview he's "not a fan" of singing competitions.
"I'm not a fan of singing competitions. I never have been," the judge told the Huffington Post.
VIEW THE PHOTOS: NBC's 'The Voice' Goes Live
Adam was quick, however, to defend his own reality show.
"There was something that rang true with 'The Voice,'" he continued. "It's just a very sincere, honest show where we were allowed to speak our minds and be ourselves and help people along - in a real way."
VIEW THE PHOTOS: The Verdict Is In! Judges Of Reality Television
While it helps people "in a real way," Adam suggested some of the tension between him and fellow judges – like Christina Aguilera, is artificial.
"Any tension that we produced was all fabricated," he said. "We all liked each other. The media just played it up. Christina [Aguilera] kicks a**. She's super talented."
As previously reported on AccessHollywood.com, "The Voice" will premiere its second season after the Super Bowl on Sunday, February 5.
VIEW THE PHOTOS: Rock Star Style
The show will then move to its regular night, beginning Monday February 6 at 8 PM ET/PT.
Copyright 2011 by NBC Universal, Inc. All rights reserved.
This material may not be published, broadcast, rewritten or redistributed.
VIEW THE PHOTOS: Keepin' It Real With TV's Hottest Reality Stars!
Related Content from AccessHollywood.com:
PLAY IT NOW: Christina Aguilera's 'Voice' Feud With Adam Levine: Is It All In Good Fun?
PLAY IT NOW: Which Rival Contestant Would Adam Levine & Cee Lo Green Steal On 'The Voice'?
More from Access: [ Adam Levine Super Bowl Christina Aguilera ]
Copyright NBCAH - Access Hollywood