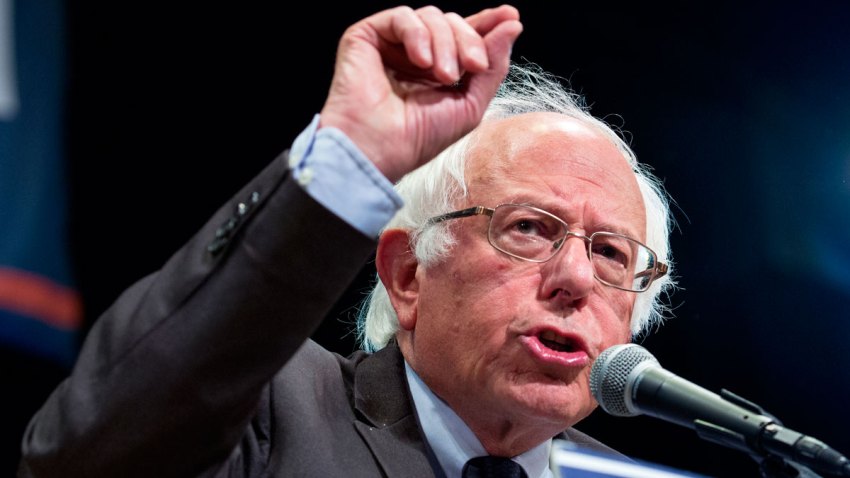 Bernie Sanders says he will vote for Hillary Clinton for president.
Sanders, who has not officially endorsed his rival, was asked on MSNBC's "Morning Joe" Friday whether he would vote for Clinton in November.
"Yes," he said. "I think the issue right here is I'm going to do everything I can to defeat Donald Trump. I think Trump in so many ways would be a disaster for this country if he were to be elected president."
Still, he stopped short of a full endorsement and made clear he was not ending his campaign.
"Why would I want to do that when I want to fight to make sure that we have the best platform that we possibly can, that we win the most delegates that we can?" he said.
He said that his "job right now is to fight for the strongest possible platform in the Democrat election."
That would include an agenda to create jobs and raise the minimum wage, he said.
The comments came a day after the Vermont senator told a roaring crowd of supporters on Thursday his campaign is "just getting started" fighting economic inequality, changing the Democratic Party and bolstering Democrats running for Congress.
Speaking to a packed hall in Manhattan, Sanders took something of a victory lap as he reviewed the states he won and the fact that many young people flocked to his campaign over that of Clinton, the presumptive Democratic presidential nominee. He did not mention her name, let alone endorse her as leading Democrats have urged.
"Our goal from day one has been to transform this nation and that is the fight we are going to continue," Sanders, his voice hoarse, told supporters who packed venue called The Town Hall near Times Square. "We have got to make sure that Trump is not president. But that is not good enough."
The independent senator received standing ovations as he reviewed his campaign positions, from free health care to free college tuition and campaign finance reform.
Sanders urged his supporters to keep fighting inequality and insisting on "forcing open the door" of the Democratic Party to allow working Americans, and not political elites, to run it. That was a not-subtle swipe at a party he complained rigged the nominating system in Clinton's favor.
Clinton earlier this month clinched the delegates required to carry the Democrats' banner against Trump, the likely GOP nominee. And Sanders this week acknowledged he would not be the nominee.
Sanders supporters, who lined up for several blocks ahead of Thursday's speech, were not eager to hear him endorse Clinton.
Sanders has been signaling the transition of his movement from a presidential run to one aimed at bolstering likeminded Democratic candidates for Congress and offices up-and-down the ballot.
He was traveling to Syracuse, New York, on Friday to hold a rally with congressional candidate Eric Kingson, who is seeking the Democratic nomination in next Tuesday's primary to challenge Republican Rep. John Katko.
Sanders has raised about $2.5 million for several congressional and legislative candidates in recent weeks, sending out fundraising emails on behalf of liberals who could further Sanders' message.
The Vermont senator has raised about $300,000 for both former Sen. Russ Feingold, who is trying to win back his old seat in Wisconsin, and Florida congressional candidate Tim Canova, who is challenging DNC Chair Debbie Wasserman Schultz, who represents a Fort Lauderdale, Florida, area district.
Copyright AP - Associated Press