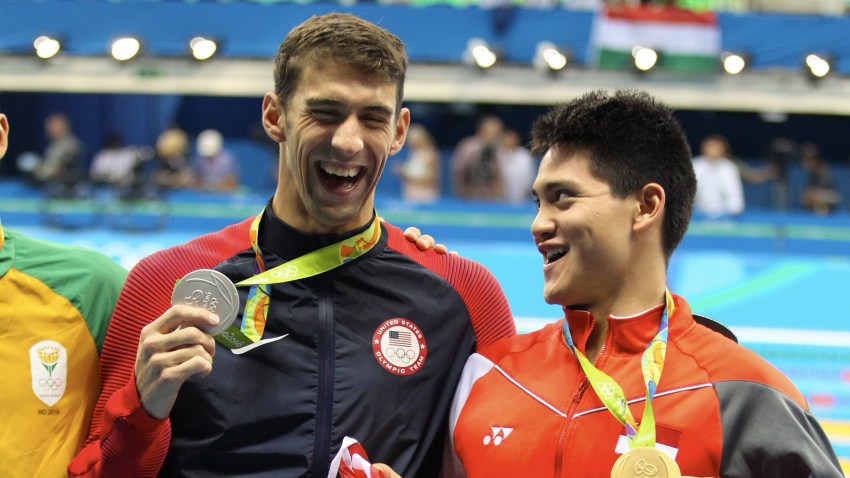 At the age of 13, Joseph Schooling had a chance meeting with his idol Michael Phelps and took an epic photo that has reemerged eight years later, after the Singaporean made history by beating Phelps in the 100 meter butterfly at the Rio Olympics on Friday.
Schooling, 21, gave the country its first-ever gold medal in Olympics history.
The upset win made Schooling an instant hero. He finished in 50.39 seconds, breaking Phelps' Olympics record.
"Well done Joseph!!! We are all so proud of you!!! You're indeed Singapore's pride!!" wrote babyian2005 on Schooling's instagram post.
Phelps tied for second with two other swimming rivals, Chad le Clos of South Africa, and Laszlo Cseh of Hungary. The three silver medalists joined hands in celebration on the podium.
Schooling, who competes for the University of Texas, where he'll be a junior this fall, is eligible to receive a $740,000 prize from the Singapore National Olympic Council due to an NCAA rules change in 2015, according to USA Today.
Schooling was working on a school essay one morning in 2008 when Phelps showed up to train at his club in Singapore ahead of the Beijing Olympics, The Associated Press reported. While other kids rushed at Phelps wanting photos, Schooling was frozen. He couldn't believe his swimming idol was in front of him. Eventually, the 13-year-old mustered the courage to get a picture, too.
"I couldn't really smile," Schooling said. "I just opened my mouth."
That long-ago chance meeting made the rounds of social media Friday night after Schooling upset Phelps.
"A lot of this is because of Michael," Schooling said. "He's the reason why I want to be a better swimmer."
The youthful looking Schooling might be unknown to the rest of the world, but in swimming circles he has solid credentials. He earned bronze in the 100 fly at last year's world championships in Russia, and he owns a slew of medals from the Asian, Commonwealth and Southeast Asian Games.
Schooling swept the 100 and 200 butterfly at this year's NCAA championships and swam on all three winning relays for the Longhorns. He has the school's mascot and the words 'Come and take it' tattooed on his left shoulder blade.
Copyright AP - Associated Press