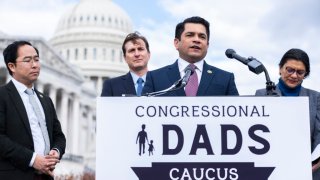 A group of House Democrats announced Thursday they were forming the Congressional Dads Caucus to focus on family issues.
The group is the brainchild of Rep. Jimmy Gomez, D-Calif., who said the caucus "is rooted in a simple idea: Dads need to do our part advancing policies that will make a difference in the lives of so many working families across the country."
Gomez, who famously brought his now five-month-old son Hodge with him onto the House floor for what turned out to be a long day of voting for a new speaker earlier this month, said the caucus will champion policies such as paid family and medical leave and expanding the Child Tax Credit.
Another member of the Congressional Dads Caucus, Rep. Andy Kim, D-N.J., said all those issues became more real to him when he became a father. "I decided to run for Congress because I became a dad and all of a sudden these issues that I wasn't as worried about or focused on when I was doing foreign policy, all of a sudden they became very real about health care, about child care about, about every aspect of our lives," he said.
Other members of the Congressional Dads Caucus include Reps. Dan Goldman and Jamaal Bowman of New York, Joe Neguse of Colorado and Joaquin Castro of Texas.
Read the full story on NBCNews.com here.