The exposed brick walls at St. Ann's Warehouse in Brooklyn, New York, were adorned with warm string lights, "Imagine the Future" signs and multicolor neon square panels reminiscent of a '70s disco floor. The performing arts venue located below the Brooklyn Bridge was filled with New York University faculty, alumni and student performers who had gathered to honor some of the institution's best and brightest.
Yet even during an event celebrating her work and influence, "This Is Us" star Susan Kelechi Watson used her spotlight to educate the audience about the importance of acting and to inspire aspiring actors with her wisdom.
As a member of the "This Is Us" ensemble, Watson has shined the last several years as part of the award-winning cast. But Monday night the spotlight was firmly on her alone. Watson, who stars as Beth Pearson on the NBC hit was honored for her work mentoring upcoming actors, directors and producers at New York University's Tisch School of the Arts annual gala Monday night.
The event also honored alum Sharon Chang, who has worked on everything from documentary films to investment projects. Filmmaker Martin Scorsese and Alec and Hilaria Baldwin served as co-chairs. Former Columbia Records president Clive Davis, after whom one of NYU Tisch's programs is named, was also in attendance.
After completing her undergraduate studies at Howard University, Watson attended NYU Tisch's Graduate Acting Program. Along with performing on NBC's "Blacklist" and HBO's "Divorce," she also mentors incarcerated youth through New York City's Drama Club an acts as a youth mentor for Epic Theatre Ensemble's Epic NEXT program.
On the red carpet, Watson said it "was really amazing" to be honored by her alma mater. She said she first realized the importance of the recognition after returning to the university when two of her friends were honored.
"Even in that moment, I knew how special it was to come back to be honored by a school that gave us so much," Watson said. "The skill set I have now as an actress, so much of those tools came from studying here."
During the gala, as actress Phylicia Rashad, who guest-stars on "This Is Us" as the mother of Watson's character, ascended the stage to introduce Watson. Rashad first met Watson when she began teaching classes at Howard University for a semester. Rashad said that although Watson was initially quiet and shy, she never failed to ask the important questions.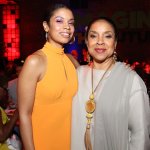 "She is courageous, she is daring, and she has a really strong commitment to humanity," Rashad said. "She's witty. She's oh-so-funny. And resourceful."
Rashad also noted that playing Watson's mother was very challenging because of the awe with which she sees Watson.
"There is nothing more gratifying to a teacher or one who imagines oneself a teacher than to see the student arise and attain levels of mastery one after the other and she is that.
For Watson, the sense of awe was mutual.
"If there was no Clair Huxtable, there'd be no Beth Pearson in the same way, that if there was no Claudette Watson, there'd be no Susan Watson," Watson said, referring to her mother who was among the attendees. "If you knew the depths of who she is as a person, if you knew what she poured into me throughout my life, you would understand why the characters I play are strong women, why the characters I play are women who can face adversity, challenge and triumph."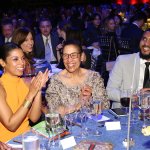 Watson credited her NYU professors with teaching her how to use her upbringing as a first-generation Jamaican-American from Brooklyn and Long Island to tell her characters' stories through her perspective, even if her characters' background differed from hers. She said she also learned "that there is an unstoppable nature to our spirit when it is guided by a calling for truth, a passion for illuminating the human experience."
"I say this now because I want to pass this on to people who maybe believe there is no room for them, there's no space for them," Watson added. "There is space on this plane, this planet, as long as you're living, breathing for you to be you're unique, individual self, to take every part of who you are and put it into a character and perspective to illuminate the human condition."
On the red carpet, Watson noted that she wants her "This Is Us" character and the relationship her character is part of on the show to be mirrors for people going through similar situations.
"I'm hoping that I embody the things that NYU stands for, which is a truth and honesty and a fervent belief in your individuality and that your specificity is important to the world," Watson said during her gala speech. "Like the icon that represents NYU, that torch, I now pass it on to the next generation."