Democrats came full-throated to Friday's Senate Judiciary Committee meeting on Judge Brett Kavanaugh and furiously pleaded their cases for why the nominee should not be confirmed to the Supreme Court without more investigation into sexual misconduct allegations, with some even walking out of the meeting in protest.
The meeting followed a long and emotional day of testimony from Kavanaugh and Christine Blasey Ford, who accused the judge of sexually assaulting her when they were teens. On Thursday, the events turned partisan as the day dragged on, with Kavanaugh and Senate Republicans claiming in fiery statements that Democrats used Ford and her experience as political pawns.
Kavanaugh called his confirmation process a "national disgrace" and Sen. Lindsey Graham deemed it "the most unethical sham."
Key Moments From the Kavanaugh-Ford Hearing
After remaining relatively measured through their questioning of Ford and Kavanaugh, Democrats displayed their outrage right off the bat on Friday.
As soon as the committee opened, Democrats offered a motion to subpoena Mark Judge, the high school friend of Kavanaugh who Ford said was the sole witness to the alleged assault. Judge has said he does not recall the incident, and the motion offered by Sen. Richard Blumenthal of Connecticut was quickly blocked by Republicans in a vote. Blumenthal and three other Democrats, Kamala Harris of California, Sheldon Whitehouse of Rhode Island, and Mazie Hirono of Hawaii, then stood from their seats on the dais and walked out of the hearing room.
"It's bad enough that we sent one person to the Supreme Court with this kind of cloud. We should not be sending both," Hirono told reporters outside the hearing room, referencing the confirmation of Justice Clearance Thomas after Anita Hill accused him of sexual harassment.
Harris said Republicans were "ramming" Kavanaugh's confirmation through, telling reporters, "There should not be a tyranny of the majority."
"This has been about raw power," Harris added. "You're seeing that in display in this hearing this morning. You've been seeing it from the process in the beginning."
Sen. Corey Booker, of New Jersey, followed suit, leaving the meeting after delivering an impassioned speech to committee chairman Sen. Chuck Grassley. Booker said that "this is a moral moment in our nation."
"We do not have to have this vote today," he told Grassley, adding, "I cannot stomach that are going to move forward."
Booker: 'This Is Not a Partisan Moment for Our Country'
Harris and Booker both refused to vote on Grassley's preferred 1:30 p.m. time for Friday's vote on advancing Kavanaugh out of the committee.
"They're refusing to vote because this is so unfair," Hirono yelled before she and the three others walked out in protest.
Some Democrats who remained in the room repeated calls for another FBI background investigation into Ford's claims, including Sen. Amy Klobuchar, of Minnesota. She argued that a federal probe could obtain necessary information and statements from the people alleged to be involved in or related to the incident. She claimed it's "not the same thing" to rely on a letter from Judge's lawyers denying the events described by Ford, which Republicans have used to chip away at Ford's credibility.
Sen. Klobuchar to GOP Colleagues: 'Where Is the Bravery In This Room?'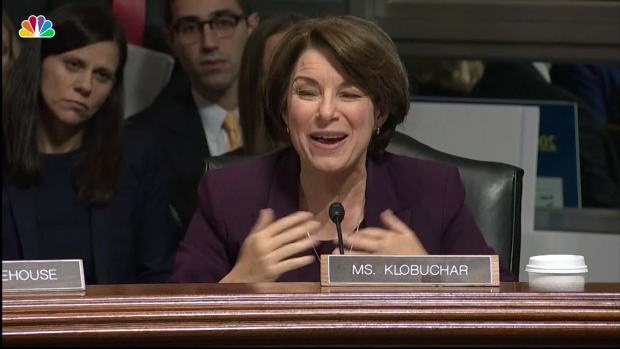 Whitehouse returned to the room to rebuke his committee colleagues for not supporting another investigation. He drew renewed attention to Kavanaugh's calendars that the judge had submitted to help support his claim that the gathering Ford described didn't happen. Whitehouse argued that an entry written by Kavanaugh on July 1, 1982, indicated there had been a gathering of the same people Ford had alleged were present at the party and that they were getting together for beers.
"This may, may be powerful corroborating evidence that the assault happened, that it happened that day, and that it happened in that place, but with no FBI investigation, we can't tell," Whitehouse said.
Sen. Whitehouse Focuses on Single Date of Kavanaugh's Calendar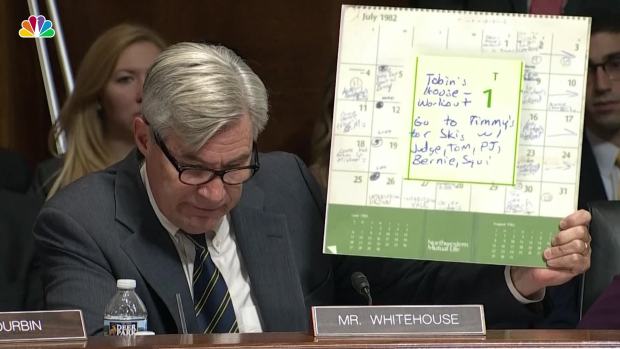 Rachel Mitchell, the special prosecutor hired by the Republicans to question Ford and Kavanaugh, questioned the judge briefly on the July 1 calendar date. After this line of questioning from Mitchell, the rest of the Republican senators claimed their time with Kavanaugh and Mitchell did not question Kavanaugh further.
Though expressing sympathy for Ford and belief that something happened to her, Republicans held their ground in their support for Kavanaugh. Sen. John Kennedy of Louisiana called the confirmation process "an intergalactic freak show" and Sen. Ted Cruz of Texas said it is an example of "Washington D.C. at it's very ugliest."
"Judge Kavanaugh, he too has been dragged through the mud for the last two weeks in a way that has no precedent," Cruz added.
Cruz: 'Politics of Personal Destruction' is DC at 'Ugliest'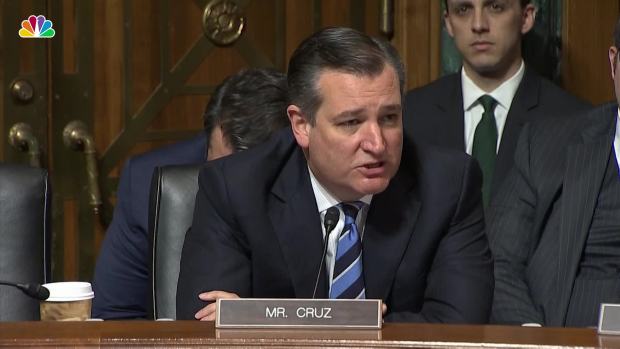 Graham, whose visible anger and shouted attacks on Thursday seemed to surprise his fellow senators, called the allegations against Kavanaugh "a bunch of garbage."
"We are in the Twilight Zone," he said, echoing a phrase used by Kavanaugh in denying one of the accusations against him.
Sen. Graham: 'This Madness Needs to Stop'
However, Democrats did manage to get one key committee Republican on their side by the end of the meeting. In a dramatic turn after speaking with friend Sen. Chris Coons and several other Democrats, Republican Sen. Jeff Flake suggested that the full Senate vote be delayed while the FBI investigates Ford's claims. Only Senate Majority Leader Mitch McConnell and Minority Leader Chuck Schumer can approve a delayed vote; the committee then decided 11-10 to proceed to a full Senate vote.
Sen. Flake Calls For Delay on Kavanaugh Floor Vote
Coons had said that women have reached out to him to share their own stories of sexual assault and that "speaks to what a public service is being done here." After Flake called for a federal probe, Coons praised his close friend and said they share a deep concern about the health of the nation and closing the growing divide in the country together.
Sen. Patrick Leahy of Vermont defended his party's approach and handling of Kavanaugh's confirmation proceedings, saying Democrats aren't trying to delay the nomination ahead of the midterms but that they are "doing our job."
Leahy: Is Senate 'Sending Signal' to Abuse Victims to Not Come Forward?
The Associated Press contributed to this report.