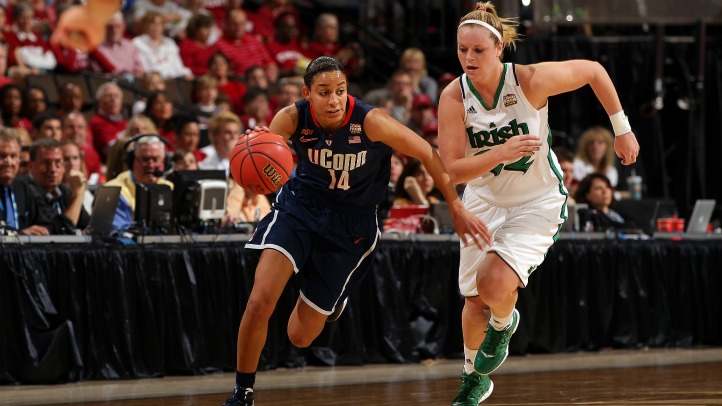 You know your program's moving in the right direction when five players are named to the Naismith Women's Early Season Watch List, an award given annually to the nation's best player. Stefanie Dolson, Kelly Faris, Bria Hartley, Kaleena Mosqueda-Lewis and Breanna Stewart all made the 50-player list.

Former Huskies standout Maya Moore won the award twice (2011, 2009), and teammate Tina Charles won it in 2010.

The fact that five players were recognized speaks to the talent depth on Geno Auriemma's 2012-13 squad. Junior guard Bria Hartley remains sidelined with a left ankle injury but she was named to the preseason All-American team; Kaleena Mosqueda-Lewis was the country's best high school player in 2011 and Breanna Stewart held that distinction in 2012.

Other notable names to make this year's watch list include Notre Dame guard Skylar Diggins and last year's winner, Baylor center Brittney Griner.

"With so much returning talent this year, anticipation and excitement for women's college basketball season among fans, players and coaches is extremely high," executive director of the Atlanta Tipoff Club Eric Oberman said in a statement. "We look forward to watching these student-athletes compete and prove to the nation that they deserve to be recognized as the best women's college basketball player in 2013."

In late February, the list of 50 players will be reduced to 30 and the finalist will be announced after the season.

Previous UConn winners include Moore, Charles, Diana Taurasi (2003, 2004) and Rebecca Lobo (1995).