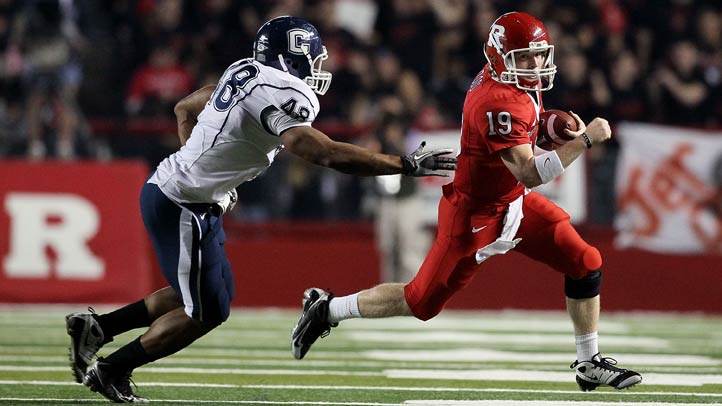 The season might be over for the UConn football team, but recognition for their individual accomplishments is alive and well. On Thursday, the conference announced the All-Big East team and eight Huskies were honored.

The first team included DE Trevardo Williams (senior), LB Sio Moore (senior) and LB Yawin Smallwood (sophomore). G Adam Masters (senior) and TE Ryan Griffin (senior) were named to the second-team offense, as was WR/KR Nick Williams (senior) for his special-teams efforts.

Finally, cornerbacks Dwayne Gratz (senior) and Blidi Wreh-Wilson (senior) were selected to the second team defense.

More details via the press release:
Trevardo Williams, a Second Team selection a year ago, totaled a team-high 11.5 sacks and led the league with 0.96 sacks per game. He finished his four year career at UConn as the all-time leader in sacks with 30.5. …

Moore finished second on the team with eight sacks and second in the league with 0.67 per game. He was also first on the team with 15.5 tackles-for-loss (TFLs) and second in the league with a 1.29 average, while Smallwood was second on the team at 15.0 and third in the league at 1.25.

For Griffin, it is his second straight season being named the Second Team tight end. He caught 29 passes in his final season for 484 yards, averaging 16.7 yards per reception. Griffin caught his team-leading sixth touchdown pass of the season on a career-long 74 yard reception against Cincinnati last Saturday.

Nick Williams was perhaps the most versatile weapon for the UConn offense this season, but made his biggest impact on special teams. On 21 punt returns, he averaged 12.0 yards per return and scored two touchdowns, including a career-long 80-yard return in a win over Pittsburgh.

In the secondary, Gratz, a repeat Second Team selection, and Wreh-Wilson were mainstays over their four year careers. Gratz started 41 games, while Wreh-Wilson started 39. Gratz led the Connecticut defense with three interceptions this season, including a 37-yard pick returned for a touchdown in the season opening win over Massachusetts. Wreh-Wilson picked off one pass in his final season and it came in the third overtime of the win at Louisville to set up UConn's game-winning field goal.
All well-deserved recognition and a lot of these guys will have opportunities to play in the NFL. As for UConn coach Paul Pasqualoni, coming off his second consecutive 5-7 season, he's now burdened with replacing all this talent.