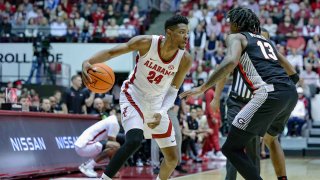 Alabama freshman forward Brandon Miller recorded a career-high 41 points in the Crimson Tide's 78-76 overtime win against South Carolina, one day after it was revealed that he allegedly transported the gun used in a fatal shooting last month. 
Every single one of Miller's 41 points were needed for No. 2 Alabama, who only had one other player finish in double digits. Miller also added eight rebounds, three steals and two blocks in the win.
This comes less than 48 hours after a Tuscaloosa detective testified in a preliminary hearing that Miller drove a gun to former teammate Darius Miles. Miles and co-defendant Michael Lynn Davis, who is accused of pulling the trigger, are facing charges of capital murder for the death of 23-year-old Jamea Jonae Harris.
Miller and teammate Jadon Bradley, who was also at the scene of the crime, are not being charged with committing a crime. Following Tuesday's hearing, Tuscaloosa chief assistant district attorney Paula Whitley told AL.com that there was nothing they could charge the two freshmen with.
That hasn't stopped many, including fans at Colonial Life Arena in Columbia, S.C., from questioning Miller's involvement and culpability. During Wednesday's game, there was no shortage of boos from the home crowd and reportedly chants directed at Miller, including "Lock Him Up" and "Guilty."
The 20-year-old is a projected lottery pick in the upcoming NBA draft. After scoring a layup at the end of regulation to force overtime, Miller continued his career night with a game winner to deny the Gamecocks a second overtime.
In the hours leading up to Wednesday's game, Alabama released a statement saying "Based on all the information we have received, Brandon Miller is not considered a suspect in this case, only a cooperative witness."
It concluded by affirming that "Brandon remains an active member of [their] team."
The Crimson Tide have three regular season games remaining before the start of the SEC Tournament.